Watch: Rolls-Royce Developing Robotic Snakes and Bugs to Inspect Engines
Jonathan Fuller | July 20, 2018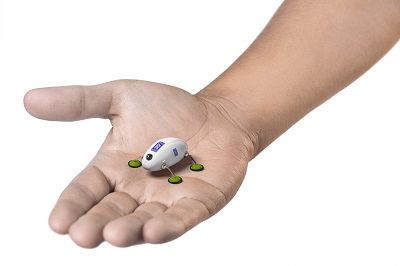 An artist's conception of a SWARM robot. Source: Rolls-Royce plc
Rolls-Royce is teaming with researchers from the University of Nottingham and Harvard University to develop anthropomorphic robots to inspect engines. The robots are one element of Rolls-Royce's IntelligentEngine concept, which aims to closely connect product and service and incorporate cutting-edge innovations in robotics and digital technologies.
Rolls-Royce discussed several potential robot types at the Farnborough Airshow currently taking place in Hampshire, U.K.:
Beetle-like SWARM robots that measure around 10 mm in diameter. A snake-like robot would deposit the SWARM robots into the center of an engine. The beetle robots would be equipped with tiny cameras to provide live video to a human operator.
The pencil-sized INSPECT robots would be a network of periscopes permanently embedded into an engine to spot and report maintenance issues.
Remote boreblending robots, which could be controlled by remote staff to repair components such as damaged compressor blades.
Snake-like FLARE robots would be flexible enough to travel through an engine to inspect damaged coatings, working much like an endoscope.
"While some of these technologies, such as the SWARM robots, are still a long way from becoming an everyday reality, others, such as the remote boreblending robot, are already being tested and will begin to be introduced over the next few years," said Dr. James Kell, on-wing technology specialist at Rolls-Royce. "We have a great network of partners who support our work in this field and it is clear that this is an area with the potential to revolutionize how we think about engine maintenance."
More information about the IntelligentEngine concept can be found at Rolls-Royce's website.