Watch How Aircraft Engines are Cleaned with CO2 Pellets
S. Himmelstein | July 16, 2018
A time- and resource-saving process for washing aircraft engines has been developed by engineers from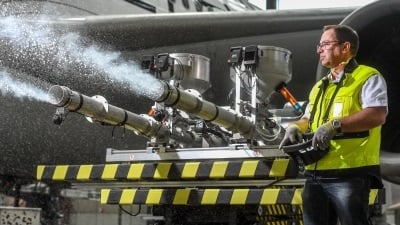 The Cyclean Dry Ice system. Source: Lufthansa Technik AGLufthansa Technik AG. The method, which uses carbon dioxide obtained as a byproduct from the oil refinery and fertilizer sectors, can be performed at sub-freezing temperatures and cuts wash time down to 30 minutes.
The key is the carbon dioxide, which is consumed as dry ice pellets only a few millimeters in size. As they are shot into the engine with a mobile blasting system, the pellets release kinetic energy on contact with engine components. The dry ice, maintained at minus 78.5 degrees Celsius/minus 109.3 degrees Fahrenheit, then dislodges dirt from engine parts.
Patent applications have been filed for the mobile Cyclean Dry Ice washing system, which is mounted on a platform with an omnidirectional drive. A height-adjustable scissor lift enables fast and thorough cleaning of all engine types, regardless of their size and height. There is no need to fasten any pieces of equipment to the engine or to perform a run-up after the engine has been washed.