Researchers at the Energy Department's Sandia National Laboratories, working with Structural Monitoring Systems, a U.K.-based maker of structural health monitoring sensors, outfitted a bridge with a network of eight sensors designed to alert maintenance engineers of cracks that require repair.
The structural health monitoring system includes eight comparative vacuum monitoring sensors, a vacuum pump to form the vacuum, a control system to turn on the vacuum pump and check the sensors, and a wireless transmitting device to call or text maintenance engineers if a sensor detects a crack. The system is powered by a lithium-ion battery, which is recharged by a solar panel.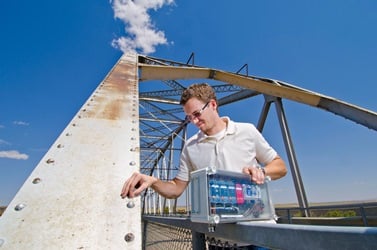 (Click to enlarge). Sandia National Laboratories mechanical engineer Stephen Neidigk positions a comparative vacuum monitoring sensor on a bridge. Source: Sandia National LaboratoryThe sensors were placed along several welds on a truss 100 feet above the deck, or flat road surface, on a suspension bridge in the U.S.
The sensors are made of flexible Teflon and have rows of channels, called galleries. They can be placed on critical joints or welds or near other places where cracks are likely to form. When the metal is whole, the pump is able to remove all of the air from the galleries, forming a vacuum. When a tiny crack forms in the metal underneath the sensor, it can no longer form a vacuum. The sensors can detect cracks smaller than the thickness of a coin.
Researchers say that the sensors can be produced in different shapes, depending on the region that needs to be monitored, such as across a long weld or around a series of bolts. Each sensor has numerous control galleries and monitoring hardware so it can tell if there's something wrong with the sensor or connecting tubes.
Sandia senior scientist Dennis Roach presented his team's work in mid-July at the ninth International Conference on Bridge Maintenance, Safety and Management. His presentation included data on the trial bridge, a general assessment of the sensors used, and a proposal for how to make structural health monitoring more routine in transportation infrastructure.
Listening to a Bridge
In 2016, a group of Clarkson University mathematicians and a civil engineer developed an approach to "listen" to a collection of signals from bridges and other mechanical structures in order to diagnose changes or damage.
Their approach involved installing accelerometer sensors along a bridge to measure how each part of the bridge is disturbed in response to a truck driving across.
The Clarkson researchers said that the accelerations serve as a listening media to forces and accelerations traveling through the structure. Signals traveling through the structure are expected to change if the bridge undergoes a change, such as a crack within the structure or if some of the bolts holding it together are loosened.
Part of the group's analysis was a data processing technique called "optimal mutual information interaction," which was developed to identify significant direct interactions between individual components within a system.

The Clarkson group's work brought together two aspects to detect damage within bridges or other mechanical structures. The first is the automated data collection process; the second is the data analytics tool developed by researchers, which, they say, can infer direct information flow and significant interactions. By combining them, the researchers said they could detect the presence of structural changes within the bridge.
Structurally Deficient
In 2016, more than 54,000 bridges in the U.S. were classified as "structurally deficient" by the Federal Highway Administration's National Bridge Inventory. "Areas that are difficult to access or things that are remotely located like bridges, pipelines and other critical structures present significant challenges to properly monitoring the health of the structure or equipment," said Dennis Roach. "A network of structural health monitoring sensors could be a solution, or at least help ensure the necessary vigilance over these components."
Sandia and Structural Monitoring Systems also worked together with Delta Air Lines Inc. and the Federal Aviation Administration to get the sensors industry-certified for crack detection on commercial aircraft.
Roach and his team also use piezoelectric sensors, fiber optics and printed eddy current sensors for structural health monitoring. Printed eddy current sensors can be installed on curved surfaces and use changes in a magnetic field to detect cracks. Each sensor takes turns sending out a vibration through the underlying material that the other sensors receive. Cracks or other damage within the sensor network change the "pitch" of these vibrations.
Railcars and rail lines, ships, wind turbines, power plants, remote pipelines, storage tanks, vehicles and even buildings could benefit from real-time, remote structural health monitoring, the researchers say. "The civil infrastructure industry is becoming more aware of the benefits structural health monitoring can provide and is now interested in using them," Roach said.