Simplified Purchasing for Industrial Fluid Handling Equipment and More
July 03, 2018
Sponsored Content
Sponsored content
People have become accustomed to one-stop shopping for consumer goods, thanks to the internet and the consolidation of retail giants. However, this purchasing trend has not carried over as well to the industrial sector, where industry and application specialization limit the inventory of most vendors.
Yet, businesses shopping for industrial fluid handling equipment have found an outlier: Dultmeier Sales LLC. This company follows three core principles that make them a premier supplier for fluid handling equipment and products, as well as related business lines.
A large inventory of fluid handling equipment that is supplemented by key complementary products means customers don't have to deal with multiple vendors when buying related equipment and merchandise. Customers in the agricultural, liquid handling, petroleum, deicing, landscaping and washing and cleaning sectors often have product needs that might require two or more vendors, whereas partnering with a single vendor allows businesses to maximize purchasing power to save more money, while at the same time improving efficiency. Prompt shipping puts the equipment and products in the customer's hands quickly, reducing downtime and increasing productivity. Additionally, exemplary customer service ensures that customers understand what they are ordering and get exactly what they ordered. The additional support of expert staff also allows for system design and troubleshooting of various issues.
Dultmeier is the premier industrial fluid handling supplier in the United States. It is also an OEM and third-party vendor, providing expertise in equipment design, repair and customization, as well as an expansive catalogue of off-the-shelf solutions.
Unmatched Experience and Service
Since Dultmeier is both an industrial fluid handling distribution expert and third-party supplier, they can offer additional layers of flexibility and delivery that competitors cannot. The company specializes in the manufacturing of pumps and motors of various sizes for industrial liquid handling solutions. Those solutions include bulk transfer tasks in the petroleum and chemical industries, as well as general spraying and cleaning, such as for car wash, agricultural, surface deicing, landscaping and cleaning maintenance applications.
As an OEM, Dultmeier has intimate knowledge of equipment operations and capabilities. With 20 technicians on staff and available for consultation, customers are ensured a reliable and flexible solution for challenging fluid handling applications. This knowledge also lends itself to a sizeable equipment repair business. Dultmeier can service many common systems of fluid handling equipment and accessories, such as pumps, pressure washers, water heaters, control panels and coin meters.
In addition to Dultmeier's internal capabilities, it also has an extensive inventory of third-party fluid handling products, with over 400 manufacturers represented. With exceptional technical expertise and unmatched product selection, fluid handling customers always find what they are looking for when doing business with Dultmeier.
One of the most significant benefits of working with Dultmeier is the efficiency and accuracy of their shipping. Dultmeier boasts a 99.5 percent shipment accuracy rate with prompt shipments. Since customers only need to work with one vendor, they benefit from consolidated purchasing power and increased economies of scale. In fact, fluid handling customers commonly see a 15-20 percent savings by maximizing all the discount savings programs that Dultmeier offers. Additionally, Dultmeier offers volume discounts and free shipping on orders over $1,800 (although exceptions may apply). An expansive and broad inventory reduces the chance that items need to be backordered. UPS-shippable orders placed before 3 p.m. CST are shipped same-day. Ninety-five percent of customer needs are filled via off-the-shelf inventory. This allows Dultmeier to minimize the amount of shipments per order. The bottom line: customers aren't left waiting for separate shipments, thereby optimizing productivity.
A Diverse Inventory for Diverse Applications
The importance of fluid handling equipment is often overlooked, even by customers. Yet, properly sized and suitable equipment for the application at hand is key to optimal efficiency and productivity. In many cases, it helps clean and extend the service life of machinery. For example, a fleet of vehicles, trucks or large machinery is kept more attractive and corrosion is reduced when fleet vehicles are kept clean.
Dultmeier is a fluid handling supplier for a diverse set of fluid handling industries and delivers the correct equipment for almost any fluid handling application. Engineers and representatives help customers determine the horsepower and throughput of pumps. Dultmeier Sales also consults on materials compatibility, while additionally offering troubleshooting guidance, operational tips and consulting for various applications. Dultmeier also carries many ancillary products that complement fluid handling equipment needs.

Figure 1. Dultmeier delivers products and expertise for many fluid handling applications. Source: Dultmeier
The many industries served and products available include the following.
Agriculture
Pumps
Spraying equipment
Storage tanks and equipment
Meters
Plumbing, including hosing, tubing, valves, actuators and couplers
Grain handling equipment
Seeders and spreaders
High-pressure washing
Pumps
Spray units and equipment
Plumbing, including hosing, tubing, valves, actuators and couplers
Accessories, such as hooks, holders, brushes and brooms
Vending, coin meters and automated points-of-purchase
Detergents, solutions, degreasers and more
Vacuum equipment
Detailing and polishing supplies
Petroleum (fuel and oil pumping and storage)
Pumps
Storage tanks
Plumbing, including hoses, couplings and adapters
Nozzles
Filters
Gauges and meters
Landscaping and turf care
Spraying systems, including guns and nozzles
Storage tanks, including vehicle-mounted tanks
Plumbing, fittings, hosing, valves, filters and adapters
Spreaders and seeders
Deicing
Spreaders and sprayers, including vehicle-mounted systems
Hosing, tubing, couplers and adapters
Patented salt brine production system
Storage tanks
Cleaning and maintenance
Washing units and sprayers, including mobile spray systems
Hosing and tubing
Vacuums
Cleaning supplies
Safety equipment
Conclusion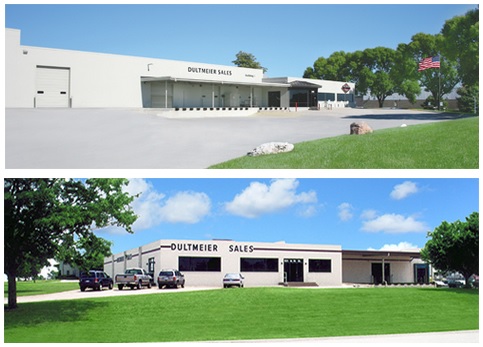 Figure 2. Dultmeier's two warehouse locations in Omaha, Nebraska (above) and Davenport, Iowa (below). Source: Dultmeier
Dultmeier's objective is to keep their customers in business with a wide and deep selection of products, quick shipping and unmatched customer service and technical expertise. More than 95 percent of customer orders are filled quickly by on-hand inventory, and shipping accuracy is more than 99 percent. The widespread stock inventory stock, rapid delivery and service are unrivaled by any other industrial fluid handling supplier.
Thanks to the unique perspective of a partner that is both an OEM and third-party supplier, Dultmeier customers get what they are looking for, quickly and accurately. Dultmeier representatives are available to help solve challenges, or customers can place an order through their convenient web store.