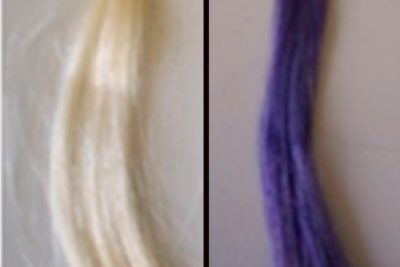 A hair dye derived from blackcurrant skins can transform bleached hair (left) into a multitude of shades including purple (right). Source: American Chemical SocietyMuch of the hair dye currently on the market today is thought to be harmful to both humans and the environment alike. Now, researchers from the University of Leeds have developed a potentially environmentally friendly alternative hair dye.
The research, which is published in the American Chemical Society's Journal of Agricultural and Food Chemistry, reveals that the team has created an alternative to the chemical-laden hair dyes currently on the market that includes blackcurrant as its primary ingredient. Derived from blackcurrant skins, the formula has proven both durable and capable of withstanding many washings, according to the research.
While human tests of the most common hair dyes have been inconclusive, experts are concerned that the 5,000 different substances comprising most hair dyes are harmful to humans, often associated with allergic reaction and with some studies revealing that the dyes promote cancer in animals. Also concerning is the possible environmental impact those substances will have on rivers, lakes and streams once the dye washes down the drain.
To achieve a formula for an environmentally friendly hair dye in a range of colors, researchers extracted and purified a collection of pigments from the blackcurrant skins called anthocyanins, which are responsible for colors such as violet and pink found in fruits, flowers and vegetables.
Combining the pigments with a dye paste, the ingredients were applied to bleached human hair, turning it a vibrant blue. With some modifications to the dye formula, researchers were also able to achieve a variety of other colors and shades of dye.