A Commercial Floor-cleaning Robot
Marie Donlon | May 21, 2018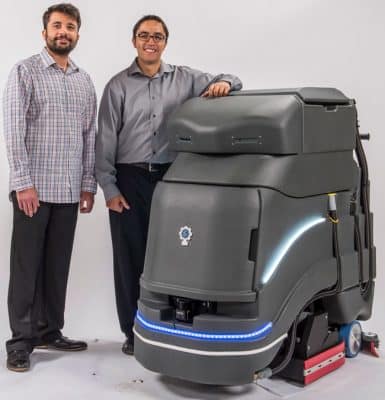 Avidbots founders, from left, Faizan Sheikh and Pablo Molina with Neo, a commercial floor-cleaning robot. Source: AvidbotsOne job most of us would only be happy to have robots take off of our plates would be cleaning. As such, robotics company Avidbots has developed Neo, a robot capable of taking over commercial floor cleaning duties.
The team behind Neo describes the robot as "a purpose-built, floor-scrubbing robot that integrates state-of-the-art navigation technology with hardware designed for ease of use, longevity, serviceability, safety and high productivity."
At first accompanied by a human, Neo assesses the layout of a home and creates a map before getting to work cleaning large, hard surfaces. Faced with obstacles, Neo reroutes itself, returning to clean the area after it senses that the temporary obstacle has been removed.
"We're a robotics company first," said Cameron Waite, director of sales. "We're not a big cleaning company that's trying to figure out robotics. We give the intelligence to the system. We allow it to make its own decisions to move through the space."
Currently in use all over the world cleaning locations such as airports, shopping malls and hospitals, the team at Avidbots is planning to develop similar robots designed for carpet cleaning and are also exploring options for how to use the data that the robots collect.
"We are working on making it even smarter," said Pablo Molina, co-founder and chief technology officer.