Russian Cuckoos Threaten Alaskan Birds
Amy J. Born | May 15, 2018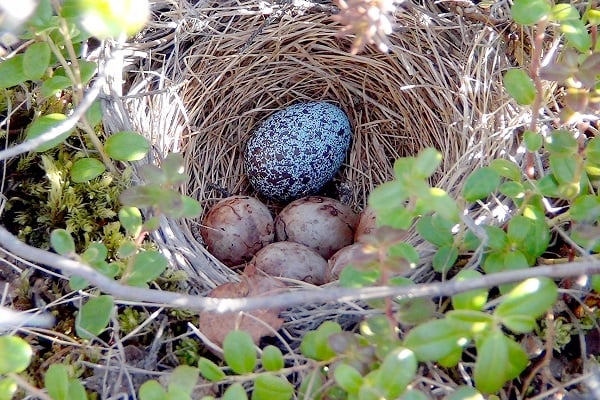 Artificial cuckoo eggs mimicking pipits were used in experiments both in Siberia and Alaska to test the egg rejection responses of typical and potential cuckoo hosts. Source: Harold Ris
Russians invading the U.S. sounds like either the plot of a Cold War-era movie or another story of hackers interfering with American elections. In this case, it's much less sinister, but still potentially devastating — at least for unsuspecting Alaskan songbirds.
According to Mark Hauber, animal biologist at the University of Illinois, common cuckoos and oriental cuckoos from Siberia appear to be expanding their territory into Alaska in what he calls "an ornithological arms race." This could be quite detrimental to Alaska's native bird population because of the cuckoos aggressive parenting strategy.
The Russian cuckoos, as well as several other types of birds and insects, are known as brood parasites. They never build nests or care for their offspring. Instead, they lay their eggs in the nests of other birds, tricking the host birds into hatching and raising their young. In order to increase their chances of success, the cuckoos lay their eggs so that their chicks hatch first. The cuckoo chicks then eliminate their competition by kicking the other eggs out of the nest.
In places where the cuckoos and other brood parasites, such as the brown cowbird in North America, have lived for some time, the other birds have developed defenses. "There are strategies such as hiding your nest, nesting at a time when the brood parasite is not around or attacking the brood parasite when it is in proximity to your nest," Hauber said. "If that doesn't work, you can abandon the nest with a cuckoo egg in it." Some birds will simply destroy the eggs before they hatch, he said. Based on this, he and his team devised a unique experiment to see how prepared the Alaskan birds are for such an invasion.
Hauber's team used a 3D printer to simulate the cuckoo eggs, which tend to look similar to the host eggs, only larger. They placed one fake egg per nest in the nests of pipits and redstarts (common host species) outside of the normal breeding range of the cuckoos in Siberia and Alaska and tested each nest twice. "What we found was very straightforward," Hauber said. "Out of 22 experiments that we ran in Siberia, 14 rejected the fake cuckoo eggs. But out of the 96 experiments that we ran in Alaska, only one pair rejected one of the fake cuckoo eggs." The team concluded that while the Siberian birds were skilled at identifying and eliminating the cuckoo eggs, most likely due to experience with the intruders, the Alaskan birds were not.
The team plans to monitor the nests over the next 10-20 years for evidence of cuckoo breeding, and if they find it, they will recreate their experiment to see if the host birds' defenses develop over time. "This changes the dynamic of how birds breed. It is evolution in action," Hauber said.
Hauber couldn't say with any certainty why the cuckoos are moving into Alaska and if it is related to climate change. He did say, however, that the brown cowbirds in North America have been "inching their way to Alaska as well," due to deforestation, specifically an increase in cattle pastures taking over their habitat. This is possibly an additional threat to Alaska's songbirds.