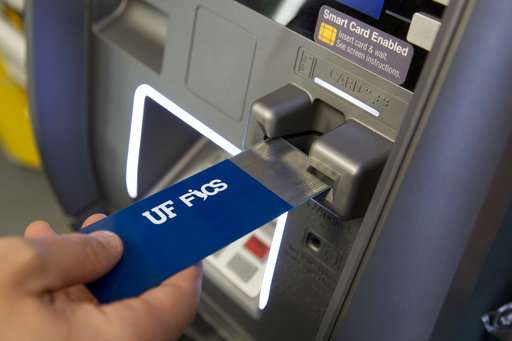 A detective with the New York City Police Department uses a detection device that indicates if a credit card skimmer is in use at an ATM machine at a New York convenience store. The device is under development by the Florida Institute for Cybersecurity Research. Source: AP Photo/Mark LennihanHow can you tell if the ATM or pay-at-the-pump card reader you are using has been compromised by a credit card skimmer? A team of researchers from the University of Florida wants to answer that question using a new device.
Called the "Skim Reaper," the device is roughly the size of a standard credit card that can be inserted into card reader slots. Once inserted, it can quickly inform the consumer if the card reader has been outfitted with technology designed to "skim" a customer's credit card numbers. Criminals generally install an additional "read head" either inside or outside of the machine, allowing them to copy the card information when consumers swipe them.
Attached by wire to a smartphone-sized box and screen, the Skim Reaper will detect the presence of a second "read head" and will display the message "possible skimmer!" on the screen.
The "Skim Reaper" is being tested by the New York Police Department which already has four full-time detectives dedicated to finding compromised card readers throughout the city. However, they are finding it difficult to keep up amid a recent spike in skimming crimes.
"The problem is that it's transient, they come in and place the device and move on. In early January we were getting killed," Deputy Inspector Christopher Flanagan of the NYPD Financial Crimes Task Force said.
For now, it costs $50 to make just one Skim Reaper. However, the research team expects that number to eventually go down. Still, despite the cost, officials are impressed by the simplicity of the scheme.
"I've been doing skimming for approximately five years now and I have never used anything like this or have known of anything like this," said NYPD Det. James Lilla also a member of the taskforce. "It's definitely an assist we can use to combat ATM skimming."
The researchers hope to one day make the device wallet-sized so that consumers everywhere will be able to use it to test any ATM card readers.