Smart Windows are an Illuminating Development
S. Himmelstein | May 09, 2018
Window blinds and curtains are obviously useful for retaining building heat in the winter, preventing interior heat buildup in the summer and distributing light year-round. The need for such fenestration fashions might be eliminated by a smart window system that can perform these varied functions.
Prototype systems recently developed include energy-harvesting and electrochromic windows, most of which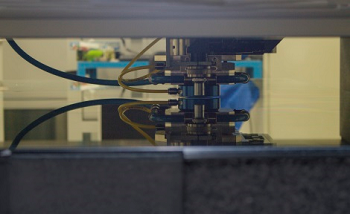 The first prototypes of the high-tech window glass are produced on the laser system at Empa in Thun. Source: Emparequire power sources or are currently too complex for commercial application.
Another option is being advanced at Empa in the form of a micro mirror-equipped window glass. Researchers have used a precision laser to form a microstructured surface into which micro mirrors are evaporated and encapsulated in a polymer film. The resulting material is designed for insertion into a conventional double-glazed window.
The micro mirrors function as compound parabolic concentrator lenses to optimally reflect sunlight with low restrictions in visibility. The researchers said this glass can reduce thermal energy consumption from heating or air conditioning systems by 10-20 percent. The prototypes were determined to divert 80 percent of light — in an almost horizontal direction — at a light incidence of 60 degrees. This capability implies improved illumination in distant corners and a beneficial influence on wintertime living conditions.
Efforts are now devoted to up-scaling the manufacturing process in a pilot project in cooperation with BASF Switzerland.