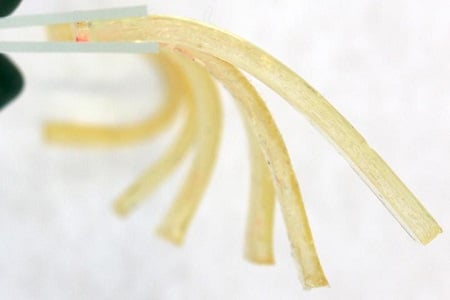 A new way to create flexible polymer gels has been devised by researchers. Source: Researchers at MIT and Brigham and Women's Hospital.Researchers at MIT and Brigham and Women's Hospital have devised a method to catalyze the formation of polymer materials using a novel substance — caffeine.
Caffeine has not been used for chemical synthesis before. It became a candidate for experimentation, though, because the MIT team wanted to find a way to use catalysts and starting materials based on food products and other materials that are safe to ingest. Caffeine, which is plant-derived, has a similar structure to other organic materials that have been used to catalyze the type of chemical reaction needed to form polymer gels. Such gel-forming usually requires metal catalysts, which can create a health hazard if any catalyst remains in the material after the process is complete.
The approach ultimately could be useful for creating new medical devices and drug delivery systems.
"Most synthetic approaches for synthesizing and cross-linking polymeric gels and other materials use catalysts or conditions that can damage sensitive substances such as biologic drugs," said Prof. Robert Langer, one of the study's senior authors. "In contrast, here we used green chemistry and common food ingredients."
By using caffeine, the researchers were able to induce citric acid — another edible material produced by plants — to form a polymer network along with polyethylene glycol (PEG). PEG is a biocompatible polymer that has been used in drugs and consumer products such as toothpaste for many decades. When slightly heated and mixed with citric acid and PEG, caffeine opens up an oxygen-containing ring that forms chains consisting of alternating citric acid/PEG molecules. If drug molecules are present in the mixture, they also become incorporated into the chains.
The researchers demonstrated that they could load their polymer gels with two antimalarial drugs, which could create compounds that are chewable or easier to swallow. They expect the material could be used to carry other types of drugs, as well.
In addition, the chemical and mechanical properties of the gel can be varied by altering its composition — allowing control over properties such as the material's strength, its surface structure and the rate at which the drugs are released. Surface traits of the material can also be altered, for instance, by imprinting them with water-repelling patterns such as the microscale architecture found on the surface of lotus leaves — allowing control over how quickly or slowly the gels move through the digestive tract.
The gels used by the researchers contain roughly the same amount of caffeine as is found in a cup of tea. In preliminary safety tests, no harmful effects were found in rats, or in four types of human cells.
A paper on the research appears in the journal Biomaterials.