A demonstration test of a froth flotation process to decontaminate radioactive soil was successfully carried out in November 2017 in Japan's Fukushima Prefecture. The technology was developed as part of a five-year project launched in France to develop bio- and physicochemical methods for the decontamination of soil and effluents in support of a strategy for post-accident rehabilitation.
​In the Fukushima region, about 22 million cubic meters of radioactive soil was removed from the surface following the nuclear power plant accident. Japanese authorities seek to reduce the volume of this waste by concentrating the radioactivity, composed primarily of cesium, into a small volume and recovering decontaminated materials. The process tested by the French Alternative Energies and Atomic Energy Commission (CEA), Orano and Veolia directly separates the soil particles contaminated by the radioactive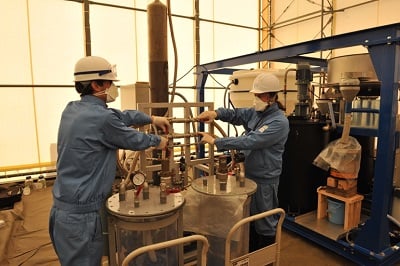 Collection of the froth containing the cesium attached to the clay particles during testing in Japan. Source: J-L Sida/CEAcesium from the particles that are barely contaminated or not contaminated at all.
Contaminated soil is mixed with water and a frothing agent to form a suspension, after which the mixture is introduced into the middle of a flotation column, with air injected into the bottom of the column to produce bubbles. The cesium-contaminated soil particles attach to the surface of the air bubbles which float to the surface, while the non-contaminated particles sink to the bottom of the column.
On most of the soil tested, 70 to 80 percent of the fine particles previously released through agitation in the water were separated by flotation, allowing for a radioactivity volume concentration of a factor of 3 to 7. This decontaminated soil displays a level of radioactivity that complies with the limit value of 8 kBq/kg authorized for potential re-use under Japanese law.