Sponsored content
Saint-Gobain is the world's largest building materials company, recognized for seven consecutive years as one of the Top 100 global innovators. Its High-Performance Refractories division, recently brought another innovative company into its fold: Spin-Works International Corporation, a manufacturer of ceramic components that improve energy efficiency, recover waste heat, and reduce emissions for customers in a wide range of high-temperature industrial processes.
Spin-Works is well-suited to expand Saint-Gobain's mission of bringing sustainability to customer processes, and nowhere is this more evident than in the capabilities of the SpyroCor™ radiant tube inserts, one of its signature products. The radiant tube insert creates temperature uniformity in the hot zone of a furnace, reducing the issue of exhaust leg "cold spots." In the process, it significantly improves efficiency.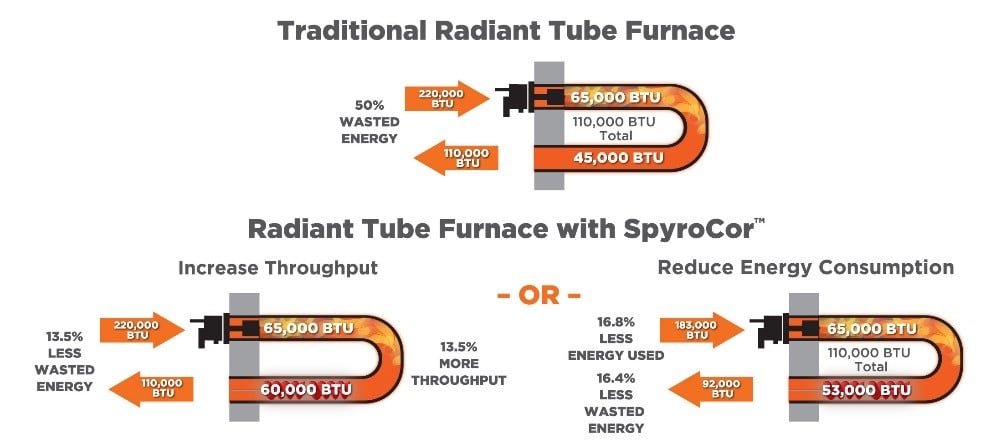 Figure 1.
Depending upon configuration, adding SpyroCor radiant tube inserts to a radiant tube furnace can reduce energy consumption by 16 percent, while still maintaining the furnace's current level of performance. Often employed in steel industry operations, the device also offers emission reductions and the potential for throughput gains.
SpyroCor inserts employ a patented, multi-fin twisted design that effectively captures wasted energy in the exhaust gasses and re-radiates that energy into the furnace. As the diagram at right shows, this allows fuel input to be reduced while still maintaining energy available to the system load. Additionally, less gas used means less generation of carbon dioxide (CO2) and nitrogen oxides (NOx) into the atmosphere, at a one-to-one ratio. For example, decreasing input by 15 percent translates to 15 percent fewer emissions.
At the same time, throughput gains can be realized if energy input is kept the same. The same amount of input produces greater heat — allowing steel to be pushed through more quickly and in greater quantity.

Figure 2. Detail of SpyroCor™ radiant tube insert. Source: Saint-GobainAnother unique aspect of the SpyroCor radiant tube inserts is that it can be quickly installed in a "hot" furnace, allowing its effects to be noticed almost immediately. Made from a durable, thin-wall silicon carbide, the device resists thermal shock and is available for straight, U, W and tri-tube configurations. When upgrading to a new furnace, the inserts can be pre-installed — or reused from an existing furnace installation.
As shown in Figure 1, customers can leverage SpyroCor inserts to provide multiple forms of savings, including a reduction in gas consumption, an increase in furnace throughput and a reduction in emission generation. A typical return-on-investment can be realized in just 18 months.
For more information on SpyroCor and other energy saving solutions visit the Spin-Works website. You can also download a brochure on SpyroCor.