Power Without Propellants for Satellites
S. Himmelstein | January 22, 2018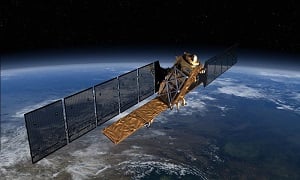 This system could be useful for satellites orbiting the Earth such as the Sentinel-1. Source: ESA/ATG medialab
A low-work-function tether has been devised by researchers in Spain for generating electric power on-board satellites. The thin aluminum tape, a kilometer or more in length and a few centimeters in width, features enhanced electron emission properties on exposure to solar radiation.
Rolled up in a reel during launch, the aluminum tape is deployed once in orbit and produces power while the altitude of the satellite lowers. If there is available power for onboard use, the tether can be used to produce a thrust force that increases the altitude of the orbit. The researchers note that the low-work function tether needs no propellant, unlike current propulsion technologies, and instead relies on geomagnetic fields, ionospheric plasma and solar radiation.
The system provides useful power while the satellite deorbits until reentry and burning in the atmosphere, eliminating space debris. Its purpose to generate thrust to increase altitude could find application on International Space Station (ISS). Propellant is consumed to reboost the ISS altitude to compensate for atmospheric drag. This could instead be overcome with a low-work function tether and the energy provided by the solar panel of the ISS.
Researchers at the Universidad Carlos III de Madrid (UC3M) and the Universidad Politécnica de Madrid have received two patents for the technology, as well as the interest of the European Space Agency.