GAO Report: Nuclear Waste Treatment Options for the Hanford, WA, Site
S. Himmelstein | May 08, 2017
The U.S. Department of Energy has two options for solidifying low-activity nuclear waste (LAW) stored at its Hanford, WA, facility: vitrification or grout. The agency plans to treat up to half of this low-activity waste, which accounts for 90 percent of the nuclear waste in tanks at the site, by immobilization in glass via vitrification, but hasn't decided about the rest.
To help ensure that DOE treats the remaining waste based on the risk and costs, the U.S. Government Accountability Office (GAO) analyzed DOE's reasons for choosing its treatment approaches for LAW at Hanford and at the Savannah River site. An experts' meeting was also convened through the National Academies to discuss the effectiveness and risks of vitrification and grout.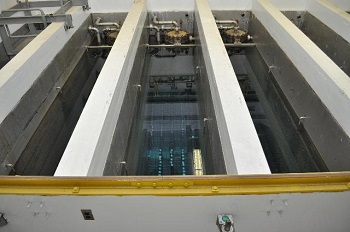 Capsules in storage inside Hanford's Waste Encapsulation and Storage Facility. Image credit: U.S. Department of Energy
GAO recommends that Congress should consider specifically authorizing DOE to classify Hanford's supplemental LAW based on risk, consistent with existing regulatory authorities. GAO also recommends that DOE develop updated information on the performance of treating LAW with alternate methods, such as grout, which immobilizes waste in a concrete-like structure.
The expert panel stated that both vitrification and grout could effectively treat Hanford's LAW. Current information shows that grout will perform better than was assumed when DOE made its decision to vitrify Hanford's LAW. Using grout for supplemental LAW could help DOE complete its treatment mission sooner, reducing the environmental risks of leaving waste in tanks for long periods.