Looking Forward: VR/AR Research Center, Jobs Creation
Tony Pallone | June 28, 2017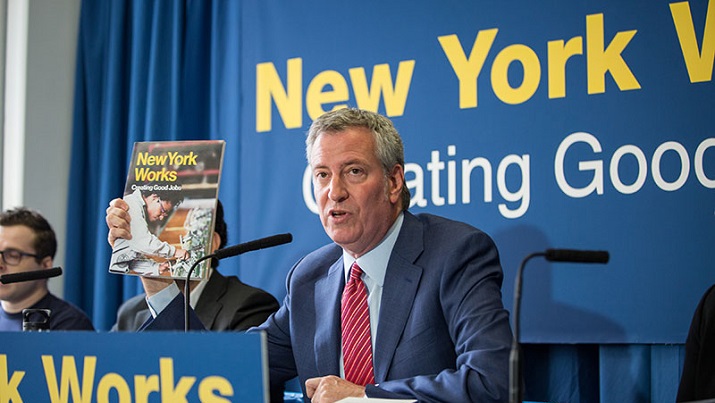 (Credit: City of New York)As part of its New York Works plan to create 100,000 jobs, New York City's mayor Bill de Blasio has announced the selection of New York University Tandon School of Engineering to develop and operate a hub for virtual reality and augmented reality. The lab will be funded by a $6 million combined investment from the New York City Economic Development Corporation (NYCEDC) and the Mayor's Office of Media and Entertainment (MOME). According to a press release from the university, the lab will directly create over 500 jobs over the next 10 years.
The lab will be the first publicly-funded VR/AR facility in the country to support startups, talent development, and research and innovation. Serving as a hub for the city's emerging VR/AR sector, the lab will support new ventures with workspace and early-stage capital; increase access to the industry through workforce development initiatives; and spur collaborations between investors, university researchers, corporate leaders and community organizations.
Expected to open in late 2017, the lab will occupy approximately 15,000 square feet of space in the Brooklyn Navy Yard, with a workforce development center at CUNY Lehman College in the Bronx.
Among the lab's goals is creating the "preeminent VR/AR research center in the country" by drawing on the expertise of faculty and students from NYU, Columbia University, CUNY, The New School and other partner institutions. "Augmented and Virtual Reality represents a huge new industry, and we want New York City to be second to none," said de Blasio.
According to the dean of NYU Tandon, Katepalli R. Sreenivasan, students and faculty there are already immersed in projects ranging from 3D brain scans to smart buildings and the first real-time VR for large audiences. The school has previously worked with the City of New York on initiatives such as the NYC Media Lab and the Future Lab entrepreneurial network.
The New York Works plan also includes investments in cybersecurity, life sciences, freight, manufacturing and new office space across the city.