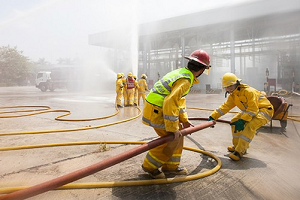 A system of interchangeable equipment, tools and materials decontaminates urban areas faster than other approaches. Source: Shutterstock, Bell nipon
A major lesson learned in the aftermath of the Fukushima Daiichi Nuclear Power Plant disaster in Japan is that available decontamination options are inadequate. Cleanup procedures are slow and expensive, and often require complete dismantlement of buildings and other structures. Existing methods are also not well-suited to the rapid decontamination and restoration of basic services in urban areas.
A wash and recovery technique based on interchangeable equipment, tools and materials devised at the U.S. Department of Energy's Argonne National Laboratory promises a faster, more efficient approach to radiodecontamination in urban environments.
A firehose sprays a salt solution on brick and concrete: the salt molecules repel radionuclides from these surfaces, which are then corralled by emergency responders in pop-up, plastic-lined channels. Workers then filter the contaminated runoff water in several contained pools before purifying and recycling it with a mobile filtration system.
The concept crystallized for one researcher when doing diaper duty for his son. Explains materials engineer Michael Kaminski, "Disposable diapers are so absorbent — why couldn't I use a similar material to clean hard surfaces after radioactivity is released?"
To decontaminate areas more quickly, Kaminski developed the wash and recovery technique. "Flexibility and simplicity are as important as speed," he said. "With this new system, firefighters can move faster by substituting many of the pieces of the process."
Instead of mixing a salt solution for the firehoses, emergency workers can use seawater. Or workers can fill barriers with any available materials and filter the wastewater with clay, sand or dirt. The process is also simple enough for workers with limited training to build and maintain.
The technique removed 70 to 100 percent of the radionuclides from hard surfaces during laboratory tests and field demonstrations. It also works on glass, metals and plastics, so it could be used to decontaminate aircraft, train cars and other vehicles.