Embedded Vision System Equipped with Quad Core Processor
Shawn Martin | December 19, 2017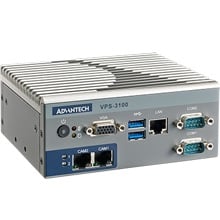 Source: AdvantechA rugged embedded vision system equipped with Intel® N3160 4 cores Braswell processor suits up as an ideal machine vision platform with built-in PWM lighting control.
Advantech's VPS-3100 embedded vision system is a compact, fanless vision platform. It provides two independent Gigabit Ethernet ports with data transfer rates up to 2.0 Gb/s. It also supports PoE (power over Ethernet) providing a powerful and flexible digital interface.
The machine vision system features a GigE Vision offload Engine (GoE), trigger-over-Ethernet support, an IP40 enclosure rating and is GenICam compliant. It offers users a significant cable reduction simplifying system installation with a lower total cost of ownership.