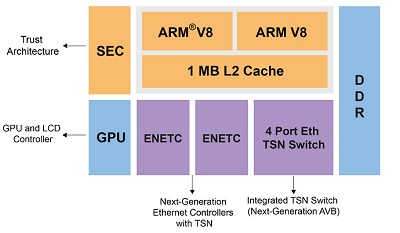 Source: NXPEmerging technologies deliver promise as the internet of things looks to meld information technologies with operational technologies. The internet of things (IoT) has penetrated the industrial sector and as local area networks (LAN) are in large part inoperable with standard Ethernet, technology has adapted. Four key areas of development that foster Industry 4.0 and help manufacturers embrace change are dealt with by next-generation networking, processing, user interfaces and security platforms.
Time-sensitive Networking
The first hurdle for many applications is synchronizing time-sensitive data and since industrial Ethernet protocols have limited operability, cross-talk is challenging. Bridging of LANs across IP addressable internet devices gives rise to synchronization issues stemming from network delays, local area time zones and data processing time. To ensure consistency of synchronized devices across bridged LANs, IEEE's standard 802.1AS addresses standard practices and device requirements.
Through the use of the generalized Precision Time Protocol (gPTP) and time-stamped records, 802.1AS ensures that the synchronization requirements are met for time-sensitive applications. The widespread use of bridged LANs requires that each component that maps or demaps a time-sensitive application or performs a time-sensitive function incorporates standard time synchronization in reference to a master timing signal such as the coordinated universal time (UTC).
Real-time Operating System (RTOS)
Standard processors are incapable of supporting time-critical functions or otherwise have inadequate processing capacity. The assumption is that cloud computing is capable of capturing data from sensors, analyzing the data and directing the system responses. That localized hardware is so alleviated of the computing capacity required to harness the power of IoT, but time sensitivity and the proprietary nature of data leads manufacturers to process manufacturing data locally.
Computing capacity is not just about a master controller either. Production machinery, given sufficiently powerful processors, has extended capabilities that stand to gain production efficiency. Embedded processors that are equipped with RTOSs like VxWorks or industrial grade Linux open-source alternatives allow machines to coordinate among themselves autonomously and gain production efficiency.
Graphics Processing Units (GPUs)
To visualize production gains and readily process big data operators requires an improved user interface. Human-machine interfaces (HMI) are evolving and are more often equipped with higher resolution screens to view the output from high-definition video sources or to display overlays of graphics. To make the most out of these advanced user interfaces, the same type of GPUs found in smartphones are required.
Security
A fully-functional Industry 4.0 platform can fail if it is not secure, and the financial and safety risk in the industrial context is greater than that in the consumer world. Embedded systems and bridged LANs need to be operable, yet impenetrable. Data security has long been understood as a hurdle, but as the industry moves away from Internet Protocol version 4 (IPv4) devices and incorporates the heightened security from Internet Protocol version 6 (IPv6) systems, they become virtually impenetrable.
IPv6 offers network-layer encryption and authentication as, by design, it is compliant with Internet Protocol Security (IPsec). These protocol suites mandate the authentication and encryption of each IP packet of a communication session. Data is authenticated and encrypted securing data that flows over IP networks.
Conclusion
Microprocessing units MPUs and system on chip (SoC) solutions like NXP's new QorIQ Layerscape LS1028A processor incorporate all that is needed to embrace Industry 4.0. The LS1028 supports gPTP, incorporates two powerful industrial grade CPUs, GPU and LCD interfaces, as well as integrates NXP's trust architecture, helping to enable bullet-proof IoT security from IPv6 enabled devices. NXP's SoC platform allows original equipment manufacturers to harness the power for Industry 4.0 with state-of-the-art networking, processing, HMI and security in their designs.
Resources:
802.1AS-2011 — IEEE Standard for Local and Metropolitan Area Networks — Timing and Synchronization for Time-Sensitive Applications in Bridged Local Area Networks