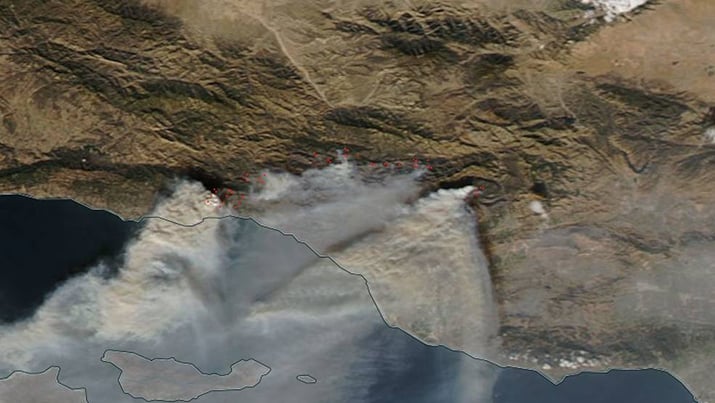 Terra satellite photo, Dec. 16. Source: NASA Worldview applicationThose hoping for good news out of California, still reeling in the wake of the destructive wildfires that have ripped through the state, may find a bit of comfort in images from NASA.
The Thomas Fire — the second largest in the recorded history of the state — is now 60 percent contained. A series of satellite images taken over a period of four days in the past week show a visible improvement in conditions.
In an image taken by the Terra satellite on Dec. 16, one can clearly see multiple "hot spots" and telltale areas of smoke. By the following day, an image taken by the Aqua satellite shows that the number of hot spots had diminished significantly as firefighters made progress in containment. And by Dec. 19, the same satellite showed a lack of hot spots and spewing smoke, indicating a much calmer landscape.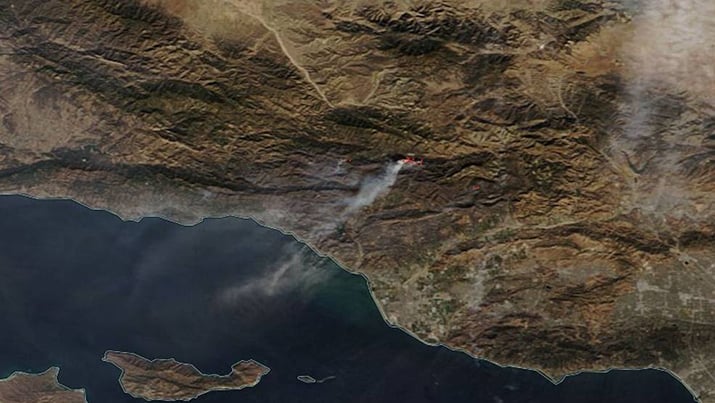 Aqua satellite photo, Dec. 17. Souce: NASA Worldview applicationWhile the fire is not out completely, changing weather conditions have helped to get it better under control. This does not mean, however, that the fire cannot regain strength if conditions worsen — and, at present writing, weather conditions are deteriorating. Inciweb, an interagency incident information management system, is forecasting a strong north wind event, which could once again push the fire into critically dry areas.
The Thomas Fire, which broke out on Dec. 4 near Thomas Aquinas College in Ojai, has now been burning for 16 days. Overnight, it was fanned by strong "Santa Ana" winds — cool, dry air masses that originate over the Great Basin and Mojave Desert and drop humidity while raising temperatures. It then quickly spread into the city of Ventura and destroyed more than 500 structures in Ventura county. Subsequently, it crossed into Los Padres National Forest — a particularly dangerous area for firefighting due to the way that winds can funnel down into its steep canyons.
It is currently burning an area of 272,000 acres.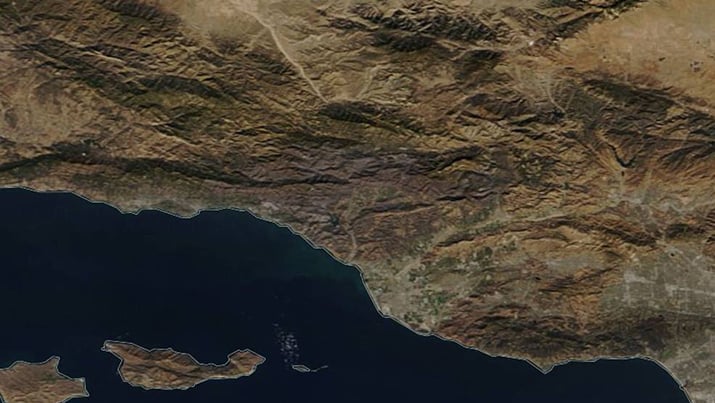 Aqua satellite photo, Dec. 19. Source: NASA Worldview application
For continually updated information on the Thomas Fire, visit Inciweb.