The piezoelectric effect — the ability of certain materials to generate an electric charge in response to applied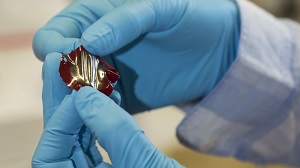 A sample of piezoelectric rubber. Source: Empamechanical stress — has been demonstrated primarily in crystals and ceramics. Now, add rubber to the list of piezoelectric materials.
A flexible material developed by researchers from the Swiss Federal Laboratories for Materials Science and Technology (Empa) generates electricity when stretched and compressed. The rubber is a composite incorporating polar nanoparticles and an elastomer; silicone was used in the prototype. Shaping and joining the materials yields a thin, elastic film in which the polar moieties of the nanoparticles are still randomly oriented.
The film is heated until the glass transition temperature of the nanoparticles has been exceeded and they change from a solid, glassy state into a rubbery, viscous one. Exposure to a strong electric field orients the polar moieties, and this arrangement is frozen by cooling the material to room temperature.
The researchers suggest the rubber could be used to design pressure sensors, sensitive skin for robots that can register touch or clothing that can monitor the wearer's activities or generate electricity from their movements. The material might also be implanted near the heart to produce electricity from heartbeats and power pacemakers and other devices, eliminating the need to change batteries with invasive procedures.