A newly developed solar-harvesting ink has been used to inkjet-print solar bio-batteries and solar panels on paper. The main ingredient in the ink? Cyanobacteria.
The photosynthesizing microorganisms were printed in specific patterns onto electrically conductive carbon nanotubes, which were also inkjet-printed onto a piece of paper. The cyanobacteria survived the printing process and were able to perform photosynthesis so that small amounts of electrical energy could be harvested over a period of 100 hours.
An iPad-sized bio-solar panel fabricated by researchers from Imperial College London, the University of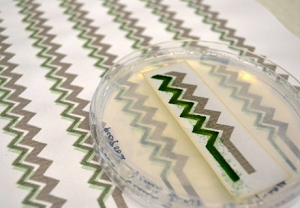 The bio-solar panel could resemble wallpaper but is in fact an environmental sensor forCambridge and Central Saint Martins could power a simple digital clock or a small LED light bulb. The technology could lead to electrical devices made from paper and printed bacteria, including disposable power supplies integrated into paper-based sensors for monitoring patients with diabetes or devices that resemble wallpaper but function as environmental sensors for monitoring air quality in the home.
The development is representative of an emerging renewable energy focus termed microbial biophotovoltaics (BPV). Such systems can produce small amounts electricity in daylight and carry on producing it even in the dark from molecules produced in the light. High costs and low power output have impeded scale-up of the technology, but the use of an off-the-shelf inkjet printer provides scope for promoting wider diffusion of BPVs.
Dr. Andrea Fantuzzi from Imperial College London, said: "Paper-based BPVs are not meant to replace conventional solar cell technology for large-scale power production, but instead, could be used to construct power supplies that are both disposable and biodegradable. Their low power output means they are more suited to devices and applications that require a small and finite amount of energy, such as environmental sensing and biosensors."
The researchers plan to enlarge the current palm-sized paper-based BPV unit to A4 size to determine the electrical output on a larger scale.