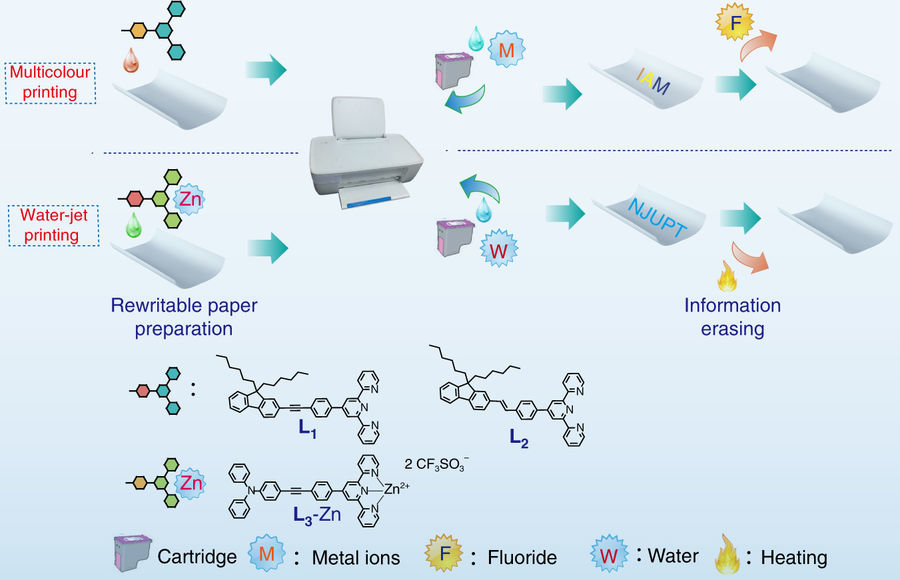 Schematic illustration of multicolour and water printing. Chemical structures of L 1 , L 2 and L 3 , and the printing and erasing processes for the constructed rewritable paper. Source: Nature Communications (2017). DOI: 10.1038/s41467-017-02452-w A new type of paper — developed by researchers from Nanjing University of Posts and Telecommunications, Nanjing Tech University and Northwestern Polytechnical University (all in China) — that can be erased and printed on many times could have potential consequences for the environment.
Publishing details about the new paper in the journal Nature Communications, researchers believe the manufacturing of the reusable paper could protect the environment considering the pollutants produced during the traditional manufacturing of paper and how paper production has led to worldwide deforestation.
The reusable paper, which is a combination of special ink and paper, is composed of a multilayer mat of polymers suffused with chemicals that react with metal salts, thereby producing seven specific colors. The chemicals in the paper are terpyridine molecule ligands that correspond to specific metal ions such as zinc, iron or cobalt. The team also added fluorene to strengthen the optical properties of the paper.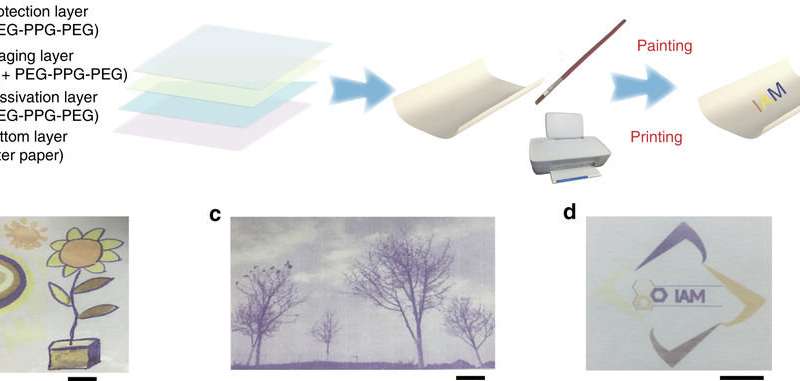 Structure and multicolour printing of rewritable paper. a Schematic illustrations of four-layer structure used to create the rewritable paper based on L 1 . b Colourful image of a flower drawn by different metal salts aqueous solution as ink. Scale bar = 1 cm. c An image of trees printed using a customized black inkjet cartridge filled with FeCl2 aqueous solution. Scale bar = 1 cm. d Colourful printing of the badge of Institute of Advanced Materials using an inkjet cartridge filled with FeCl2, Zn(NO3)2 and Co(NO3)2, respectively. Scale bar = 1 cm. Source: Nature Communications (2017). DOI: 10.1038/s41467-017-02452-w Researchers used a standard inkjet printer to print on the paper. The printer ink was created by mixing the metal salts with an aqueous solution. Researchers noted that they were able to erase and reprint the paper eight times before it started to lose its vibrance. They also noted that the ink remained vivid on the page for up to six months. Considering the number of times a single paper can be used, according to researchers, printing with this paper would be just one-fifth the cost of printing with a traditional inkjet printer.

For more information on the paper, go to the journal Nature Communications.