Ocean and beach contamination by microplastics is a pervasive environmental problem, as these materials are long-lived and eventually find their way into food chains. Plastic will break down on exposure to sunlight via photocatalytic oxidation, but this slow process can take years until decomposition is complete.
A method for accelerating degradation of waste plastic was developed at KTH Royal Institute of Technology in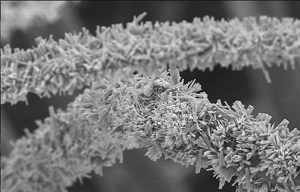 These nano scale wires are made with a semiconductor material that can speed up the process of photocatalytic oxidation, which breaks down plastic molecules. (Photo: courtesy of Joydeep Dutta) Sweden. Photocatalytic membranes designed in partnership with PP Polymer AB trigger pollutant degradation by exciting electrons, which then causes water molecules to split into their constituent parts, hydrogen and oxygen. The material captures enough solar radiation from a minimum of available light to set off a reaction with the molecules of plastic. The radicals then exchange electrons with the atoms that comprise plastic molecules, effectively pulling these contaminants apart.
The membranes are composed of nanoscale wires coated in a semiconductor material that can absorb visible light and use it to break down plastic particles. Near-term tests are planned to place these coated filter systems in wastewater pipes leading out of homes and in wastewater treatment plants as a final treatment stage.
As part of the Cleaning Litter by Developing and Applying Innovative Methods in European Seas project, floating booms will also be deployed at river mouths to collect visible plastic waste. Ferry routes in Denmark, the Gulf of Lyon, Ligurian Sea and Saronikos Gulf will be used to test a plastics measuring system that could be later used on shipping vessels.