Gold Nanostars Boost Efficiency of Photocatalytic Hydrogen Production
S. Himmelstein | July 13, 2018
Researchers from Rutgers University have observed a dramatic increase in the efficiency of photocatalytic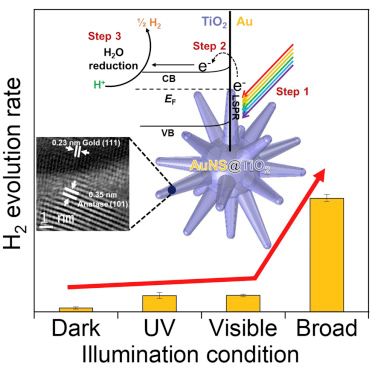 Star-shaped gold nanoparticles coated with a semiconductor allow efficient production of hydrogen from water. Source: Rutgers Universityhydrogen production by inclusion of gold nanostars. The latter exhibit strong localized surface plasmon resonance (LSPR) in the near infrared, with intense electric fields at the tips, which enables the generation of hot electrons.
A low-temperature synthesis process was used to apply gold nanoparticles coated with a semiconductor to titanium dioxide, a compound often used as a photocatalyst under ultraviolet (UV) light. After the materials were exposed to UV, visible and infrared light, the electrons which trigger reactions were shown to produce hydrogen from water over four times more efficiently than documented in previous efforts.
Leveraging the energy of visible and infrared light to excite electrons in gold nanoparticles facilitates their efficient transfer to titanium dioxide. Additional research focusing on morphology- and LSPR-tunability could provide insights into photoexcitation by low-energy wavelengths in hydrogen evolution and advance solar energy storage technology.
The research is published in the journal Chem.