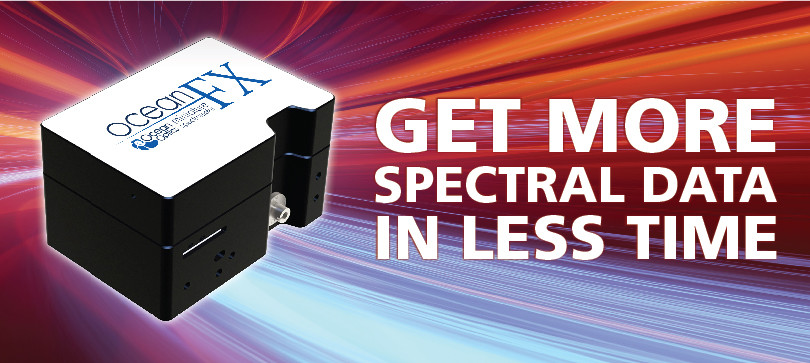 Ocean FX compact, high scan rate spectrometer with onbaord processing and excellent wired and wireless connectivity. Source: Ocean Optics.The Ocean FX® from Ocean Optics is a versatile spectrometer with acquisition speeds up to 4,500 scans per second, onboard averaging of up to 5,000 spectra for improved signal to ratio (SNR x:1 =290) and minimal data transfer time. Ocean FX is an excellent choice for high-speed process applications, measurement of fast events, and reaction monitoring!
The spectrometer has robust wire and wireless communications capabilities including simultaneous USB, SPI, Gigabit Ethernet and Wi-Fi connectivity. An onboard buffer or spectral memory holds up to 50,000 spectra and allows time-stamping in order to preserve and document all your data points.

Ocean FX is available in application-ready, custom and OEM spectrometer configurations. The spectrometer can be integrated into other devices as a component, subassembly or turnkey solution. Standard and enhanced sensitivity Ocean FX preconfigured models are available in FX UV-Vis (200-850 nm), Vis-NIR (350-1000 nm) and extended (200-1025 nm) spectral ranges. The resolution of the Ocean FX spectrometer is 0.1 to 10 nm and a dynamic range of 5000. The Ocean FX utilizes a Hamamatsu CMOS detector.

The video simulates a process environment to demonstrate the rapid scan rate of the Ocean FX spectrometer.
With onboard processing and Ethernet communications, Ocean FX is ideal for at-line and in-line color measurements including:
Rapid events measurements – flicker and fast color cycling LEDs
High-speed plastics recycling – filler, pigment and polymer compound determination
Biomedical device inspection
Product security & authenticity analysis - material spectral fingerprinting
Agricultural measurements and monitoring
Air & water quality analysis
Chemical reaction monitoring
Chemical analysis - absorbance, fluorescence
Rapid kinetics measurement
Fluorescence decay
Food & beverage processing, sorting and quality control - UV-Vis analysis
Health & life sciences
Medical diagnostics
Protein & nucleic acid analysis
Semiconductor wafer and thin film coating analysis

The Ocean Optics website has additional details on the Ocean FX spectrometer: