The abundance of ozone higher in the atmosphere obscures space-based measurements of ozone levels near the Earth's surface. Now satellite measurements can be made of precursor gases responsible for ozone formation, thanks to NASA research.
The Dutch-Finnish Ozone Monitoring Instrument aboard NASA's Aura satellite, launched in 2004, is monitoring concentrations of formaldehyde and nitrogen dioxide, both agents in ozone chemistry. Space-based methods for monitoring ozone trends complement surface-based measurements made by air quality management agencies. The view from space offers consistent coverage of broad areas, and provides data for regions that may not have ground stations.
The researchers are using a combination of computer models and space-based data to analyze precursor molecule levels and infer whether ozone production increases more in the presence of nitrogen oxides, volatile organic compounds (VOCs) or a mix of the two for a given location. The study focuses on North America, Europe and East Asia during the summer months, when abundant sunlight triggers the highest rates of ozone formation.
To understand their impact on ozone formation, the team weighed whether VOCs or nitrogen oxides was the ingredient that most limited ozone formation. If emissions of that molecule are reduced, then ozone formation will be reduced — which is critical information for air quality managers.
Analyses reveal that cities in the study regions are more often VOC-limited or in a transitional state between VOC and nitrogen oxides-limited. In addition, the 12 year data record of satellite observations show that a location's circumstances can change. For instance, in 2005, New York City's ozone production during the warm season was limited by VOCs, but by 2015 it had transitioned to a nitrogen oxides-limited system due to reduced emissions resulting from controls implemented at both regional and national levels. This transition means that future nitrogen oxides reductions will likely further decrease ozone production.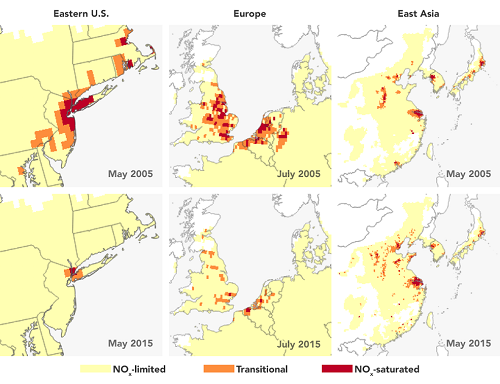 The top row of images shows each region in 2005, which had abundant nitrogen oxides in urban areas where human emissions are high, leading to systems where ozone formation was controlled by VOC amounts. As pollution controls were put into place on nitrogen oxides emissions, by 2015, the systems in urban areas became limited by nitrogen oxides, meaning that further controls on nitrogen oxides would help reduce ozone formation. (Credits: NASA's Earth Observatory /Josh Stevens)