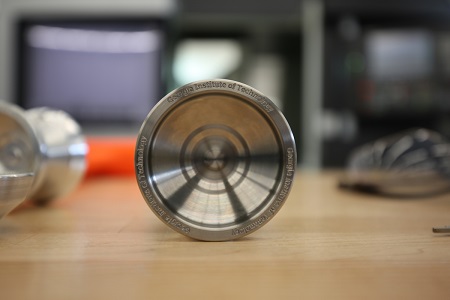 Source: Georgia Tech
With hand-drawn sketches, formulas scribbled all over a whiteboard, computer-aided manufacturing software and computer-controlled (CNC) equipment, two mechanical engineering students at Georgia Tech contemplate a challenging problem of physics.
How might one design the perfect yo-yo?
One of the students, third-year mechanical engineering major Darren Tan, first got fascinated with the toy as a kid in Malaysia. "In Malaysia, there were TV shows about yo-yos," he says. "One day I went to the mall and saw a group doing a yo-yo demonstration. I just thought that was the coolest thing."
Tan heard about a class offered this fall focused on mechanical design, manufacturing and implementation. When the class was designed by Ph.D. candidate Roby Lynn and Professor Tom Kurfess, the curriculum focused on a familiar object that students might have fun designing and building: a yo-yo.
Rather than waiting to take the Creative Decisions and Design class, Tan got a head start by spending several weeks over the summer working with Lynn on a new yo-yo design. "It's really cool to be able to apply what I'm doing as a hobby to my academic work," Tan says.
Given that the yo-yo is machined out of a solid rod of titanium, Lynn wanted to make the process as streamlined and efficient as possible. The design involved assembly of two identical halves to provide balance, steep angles and intricate threading. The tool path needed to be optimized for efficiency in order to avoid wasting time and materials.
"We're learning that current generation CNC machines are not really sufficient for very high complexity machining projects," Lynn says. "Now we're looking at developing new machines."
"Design is really iterative," adds Tan. "You're not going to get it right the first time. For example, we had edges that were too sharp, and they cut the yoyo string. You have to keep refining, see what goes wrong, fix it, and then see what else goes wrong."
Tan, already a three-time state of Georgia yo-yo champ, will next have the chance to take his custom-built model — inscribed with the Georgia Tech name — to competitions.