Similar in structure to bone and cork, lightweight, porous metallic nanofoams have potential for diverse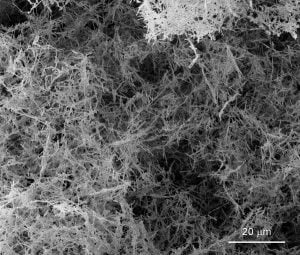 A nanofoam of palladium could be used to store hydrogen in vehicles or for other purposes. Source: Dustin Gilbert and Kai Liu, UC Davisapplications, including the storage and release of hydrogen for fuel cells. Production of these materials often requires high temperature, high pressure and controlled chemical environments. A new platform based on a wet chemistry approach developed at the University of California-Davis is more widely applicable for industrial use and is adaptable to different metal foams.
Palladium nanowires serve as building blocks in the process by immersion in water, followed by mixing into a slurry with ultrasonic vibrations. Exposure of the slurry to liquid nitrogen freezes the wires in place, and this mix is then placed in a vacuum. The ice vaporizes, leaving behind a pure palladium nanowire foam.
The density of the material is as low as one-thousandth of the density of palladium in its bulk metal form and can be tuned for different applications. The nanofoam demonstrated excellent hydrogen loading capacity, rate of absorption and heat of absorption.
The researchers have filed patent applications for the manufacturing method and are pursuing various uses for low density metal foams.