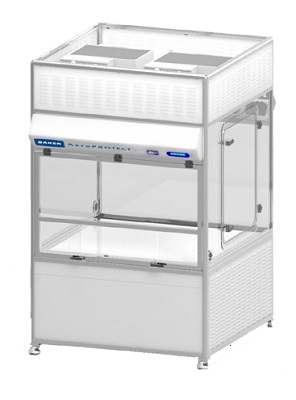 Source: BakerA versatile containment enclosure designed specifically to house automatic liquid handling robotics systems meets ISO Class 5 (Class 100) air cleanliness requirements. The Baker Company developed AeroPROTECT 360° to provide optimum personnel and environmental protection from aerosols and particulates.
The innovative robotics enclosure incorporates unidirectional, non-turbulent HEPA filtered air throughout its interior and the exhaust is also HEPA filtered. It offers product protection and an aseptic work environment meeting or exceeding ISO Class 5 conditions.
The enclosure has a 10 in. sash opening for access to the work surface. It provides 360 degree visibility in a modular, non-recirculating design that is easy to install with no HVAC connections required.