Metal end caps in automotive charge air cooler applications must withstand continuous temperatures up to 230°C (446 ˚F), which limits the material choices. An opportunity to replace these metal components with lower cost and lighter weight thermoplastics was demonstrated by Royal DSM (the Netherlands) and automotive system supplier Mahle GmbH (Germany).
DSM's Stanyl® Diablo OCD2300 (a PA46 with 50% glass fiber) was incorporated into Volkswagen's Crafter light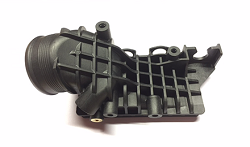 (Source: Royal DSM) commercial vehicle. The high-heat thermoplastic was used to design the water-cooled charge air cooler which was mounted directly on the engine. This arrangement results in shorter cold charge air ducts and improved engine performance. Stanyl Diablo OCD2300 proved ideal for this application due to its high mechanical performance, good chemical resistance and long-term heat aging at high temperatures.
The Diablo materials were engineered for extremely high continuous use temperatures and are available with different glass fiber contents. Stanyl Diablo HDT2700 provides a best-in-class heat deflection temperature (HDT) under load of 267°C, which exceeds that of existing Stanyl Diablo grades. This plastic can deliver a 3,000 hour, continuous use temperature of up to 230°C, making it suitable for components such as welded air ducts, resonators and liquid-cooled charge air cooler integrated air intake manifolds where aging performance of the weld line is critical.
With its lower weight versus metal, Stanyl Diablo helps OEMs reduce fuel consumption and carbon emissions, while retaining excellent tensile strength retention and impact resistance. Stanyl provides up to 40% weight reduction versus aluminum.