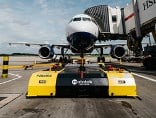 British Airways has begun using remote controlled devices across its short-haul operation to push aircraft back from the boarding gate.
In partnership with Heathrow Airport outside of London, the Mototok tugs will allow British Airways staff to prepare aircraft for departure. The airline says in a statement it is one of the first commercial operators to deploy the devices across multiple aircraft gates or stands.
The equipment, used to move Airbus short-haul aircraft, replaces traditional diesel tugs, allowing a ramp agent to push an aircraft backwards from the gate remotely. (Watch a video of the tug at work.)
Five Mototoks are currently in operation at Terminal 5. They were integrated into the operation in August.
British Airways plans to roll out the Mototok across its short-haul operation by the end of the year, and is exploring the possibility of introducing the technology to push back long-haul aircraft in the future.
The Mototok's electric battery can hold its charge for up to three days and charging points will be installed on each of the 25 stands at Heathrow's T5.