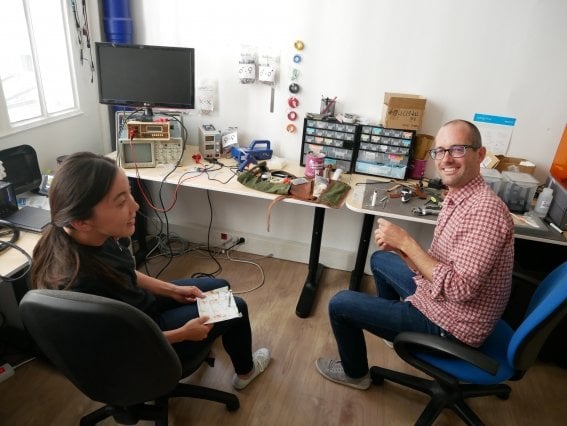 Recent 2017 MIT graduate Grace Li was one of seven MIT students who interned with Plume Labs in Paris. Source: Lillie Paquette/School of EngineeringInterns for a Paris start-up that builds air quality and forecasting technologies have spent the last three years helping to build, design and test a device capable of tracking both indoor and outdoor air quality.
Called the Flow tracker, the wearable device works much like a Fitbit, alerting the wearer via custom sensors that pollutants have been detected nearby. Once air pollutants such as nitrogen dioxide, dust, particulate matter and volatile organic compounds common in household products are detected, the wearer can use that information to reconfigure their planned routes to avoid exposure to the elevated levels. With enough crowd-sourced data on air pollution levels, creators of the device also offer maps on real-time pollution levels that can be available for specific streets and neighborhoods.
"I'm interested in making products and designing user experiences that really have a significant positive impact on people's lives. I think that's very easy to justify with making air quality data more accessible, more available, more transparent," says former intern Grace Li. "This is one of those issues that I feel like sometimes doesn't get enough attention, even though [air pollution] has become pretty prevalent in many areas and has a significant effect on our health."
Linked to three million deaths each year according to the World Health Organization, air pollution is thought to additionally affect 92 percent of the global population with elevated levels of airborne toxins that are often hard to measure. The varying levels of pollution due to weather changes, time of day, sun exposure, geography and other variables make measurement difficult.
In response to that difficulty, Plume Labs founder Romain Lacombe wanted to provide real-time air pollution data to both the general public and policymakers. And although that information is currently available via apps like Plume Labs' Air Report with hourly air pollution concentration reports, the Flow tracker offers specialized real-time information right down to specific streets and neighborhoods.
The Flow tracker is expected to hit the retail market in June 2018.