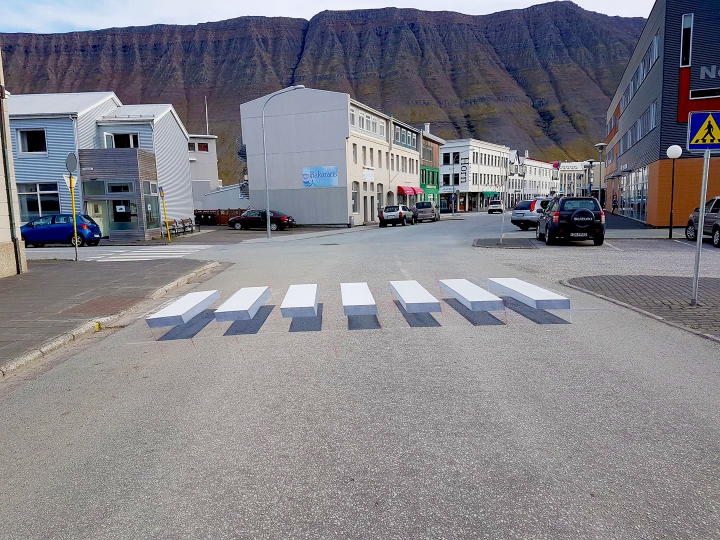 Source: Vegamálun GÍH
If your town has a problem with vehicles not slowing down or stopping when approaching a pedestrian crossing, then perhaps your city's traffic engineers should visit Ísafjörður, a small fishing village in Iceland, which has found an ingenious way to force motorists to slow down.
Since September 21, 2017, this small fishing town and capital of the Northwest Fjords region has a new traffic control device: a zebra-striped pedestrian crossing with bars that seem to float in the air over the road, thanks to an optical effect. The idea is that when drivers see it they will stop or slow down when approaching. The zebra bars are the work of Icelandic company Vegamálun and have been painted onto the road.
"The company had only come up with the idea at the start of September, taking only a couple of weeks for the local authorities to give the go-ahead for the scheme," said Vegamálun CEO Gauti Ívar Halldórsson. "A pedestrian crossing like this makes it look like there's something blocking the road; that way, drivers will automatically slow down their cars," Gauti adds.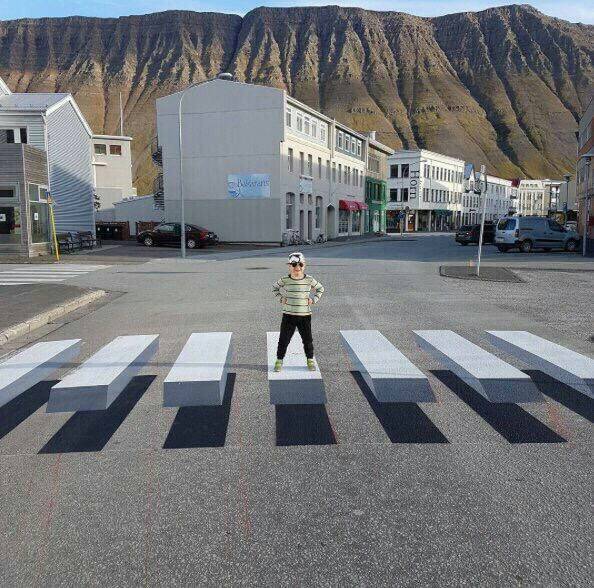 The 3-D zebra crossing bars in Ísafjörðu. Source: Vegamálun GÍHThe optical effect, when seen by the driver, works only when viewing it from a certain angle and for a short period of time. The idea is not to scare the driver into stopping abruptly at the sight of the crossing, but only to persuade them to slow down with the fleeting possibility of a navigational obstacle.
"The optical effect only works from a certain angle and for a few seconds," Halldorsson explains. "That is to say, the driver believes in the trompe l'oeil when he sees the crossing at a distance, but when he is close he realizes the trick: the idea is to keep braking, not to stop thinking that he is going to crash."
This idea is not original; Halldorsson was inspired by a similar zebra crossing he saw in New Delhi and proposed the idea to the Ísafjörðu town hall two weeks ago. After being approved by the police and municipal authorities, painting was simple.
"Although we had to practice a little the 3D effect," he admits. "I'm enjoying the media attention of this work," he proudly says, "all our other zebra steps are normal, I hope to do more like this."
What do you think? Your city council may be interested in something like this.