Compact Tokamak Development Continues
S. Himmelstein | September 29, 2017
The costs, concept design and timeline for the first fusion facility to generate more energy than it consumes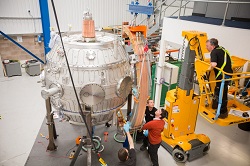 Maneuvering the first heavy toroidal field coil into position. Source: Tokamak Energyare under development by a venture involving engineering firm Atkins and Tokamak Energy, a private UK-based company working to develop compact fusion power.
The facility will be centered on a new tokamak, which is expected to be about three to four times larger than Tokamak Energy's current prototype device, the ST40, which is 4-m tall and 2.5 m in diameter.
First plasma was achieved in the prototype at the end of April, after which large toroidal field coils were added to the machine.
Tokamak Energy is pursuing a five-stage plan toward producing fusion power. The next stage is to reach fusion temperatures of 100 million degrees in the ST40 in 2018, followed by production of high density plasmas. First electricity with a 'Fusion Power Demonstrator' is scheduled by 2025, and commercially viable fusion power with the first 'Fusion Power Module' is slated for 2030.