Video: Commercial fusion turns up the heat
S. Himmelstein | April 08, 2022
U.K.-based Tokamak Energy has achieved a plasma temperature of 100 million° C, the threshold required for commercial fusion energy and the highest realized to date in a spherical tokamak.
The milestone documented in the compact ST40 system further demonstrates the value of spherical tokamaks as an optimal route to the delivery of clean, secure, low cost, scalable and globally deployable commercial fusion energy.
The ST40, a high field spherical tokamak with a major radius of 40 cm, utilizes a 4 m tall stainless steel vessel with copper toroidal field coils that produce magnetic fields up to 3T. A novel merging-compression method is deployed for plasma start-up in a device designed to demonstrate burning plasma conditions in a high-field, low aspect ratio spherical tokamak.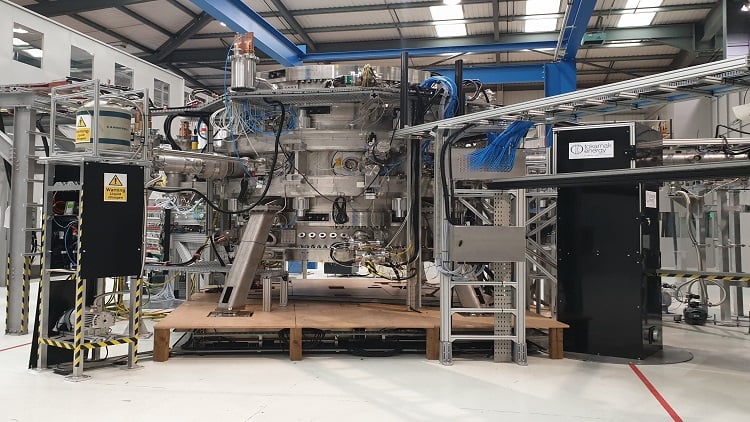 The spherical tokamak achieved the threshold plasma temperature required for commercial fusion energy. Source: Tokamak Energy
Efforts now focus on system upgrades to engineer the ST-HTS, expected to be the world's first spherical tokamak to demonstrate the full potential of high temperature superconducting (HTS) magnets. The power system is due to be commissioned in the mid-2020s and to inform the design of a world-first fusion pilot plant to be commissioned in the early 2030s.
The company is now manufacturing a complete HTS magnet system with advanced magnet protection and insulation technology.