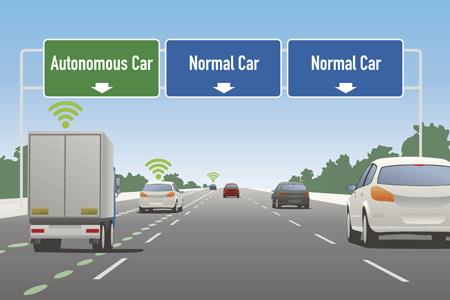 Credit: Photonics online
The U.S. House of Representatives unanimously approved a bill to regulate self-driving vehicles. After holding more than 250 meetings with car manufacturers, government officials and senior and disability groups, the House's energy and commerce committee, by a ballot of 54 votes to zero, passed the Safety Ensuring Lives Future Deployment and Research in Vehicle Evolution Act, or the SELF DRIVE Act.
This legislation aims to ensure, "the safety of highly automated vehicles as it relates to design, construction, and performance, by encouraging the testing and deployment of such vehicles," according to the law's wording. In particular it defines the role of federal and state authorities to regulate safety standards and compliance.
In the United States, an estimated more than 40,000 people were killed in 2016 car accidents, according to the committee. Given the the fast pace of the development of self-driving vehicles, the House of Representatives thinks that this industry has the potential to reduce car accidents by 90 percent, so saving the lives of some 30,000 people per year.
The bill stipulates that all self-driving vehicle manufacturers must submit safety assessment certifications to the National Highway Traffic Safety Administration (NHTSA)
"Our aim was to develop a regulatory structure that allows for industry to safely innovate with significant government oversight, as safety must be the chief priority. And I believe today's legislation strikes that critical balance," said Rep. Greg Walden (R-OR), chairman of the energy and commerce committee.
The bill also mandates NHTSA to create an advisory council composed with representatives from academia, engineering, government, public safety advocates and others to recommend advanced mobility access for seniors and the disabled community using self-driving vehicles.
"With this legislation, we're strengthening the promise of self-driving technology to improve the lives of millions of Americans who live with mobility and accessibility challenges," committee members said in a press release.
The group Self-Driving Coalition for Safer Streets – with Uber and Lyft as members – released this statement in support of the bill:
"Self-driving vehicles offer an opportunity to significantly increase safety, improve transportation access for underserved communities, and transform how people, goods and services get from point A to B. The Coalition is grateful for the House Committee on Energy and Commerce's bipartisan leadership on the SELF DRIVE Act, and we look forward to working with members of the House and Senate to enact autonomous vehicle legislation that enhances safety, creates new mobility opportunities, and facilitates innovation."
The SELF DRIVE Act will become a law after the Senate passes a counterpart bill.
A detailed description of the bill can be found here: https://energycommerce.house.gov/selfdrive/