Solvent-Free Supercap Eliminates Fire Risk
S. Himmelstein | September 21, 2017
Ever-shrinking batteries and supercapacitors are prone to short-circuiting and fires. A case in point is the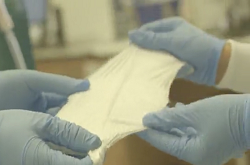 Drexel researchers electrospin a mat of carbon nanofibers and coat them with an ion-rich gel to build the solid-state supercapacitors. This eliminates the need for a flammable electrolyte solution, which has been the cause of dangerous leaks and meltdowns in the batteries of mobile devices. (Source: Drexel University)flammable liquid electrolyte used in Samsung's Galaxy Note line. Fires and explosions warranted recalls for millions of these products.
A possible solution to the electrolyte leakage and flammability problem in supercapacitors has been developed at Drexel University. A conductive mat of porous carbon nanofibers is infused with a thick, ion-rich gel electrolyte, producing a liquid-free and non-flammable device.
The solvent-free supercapacitor has a compact design and is also more durable than comparable devices. The configuration also delivers superior energy storage capacity and charge-discharge lifespan. The ability to operate at temperatures as high as 300 C means it would make mobile devices much more durable and less likely to become a fire hazard due to abuse.
"To allow industrially relevant electrode thickness and loading, we have developed a cloth-like electrode composed of nanofibers that provides a well-defined three-dimensional open pore structure for easy infusion of the solid electrolyte precursor. The open-pore electrode is also free of binding agents that act as insulators and diminish performance," said Professor Vibha Kalra,
The researchers applied electrospinning technology to extrude a carbon precursor polymer solution through a rotating electric field. The open architecture of the resulting mat of carbon fibers provides a greater surface area for ions from the gel to access the electrode. Capacity increases and performance gains are realized.