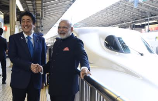 In 2016, Abe and Modi rode a bullet train together in Japan.
Japanese prime minister Shinzo Abe laid the foundation stone for a bullet-train stretch in India between Ahmedabad in Gujarat and Mumbai in Maharashtra.
The $16.9 billion project will mostly be funded through a 50-year loan from Japan at a 0.1 percent annual interest rate. Once completed in 2022, the line is expected to cut the 500-kilometer trip between the two cities from eight hours to three hours.
The route will have 12 stations and will include a 7 km undersea tunnel. The trains will have a top speed of up to 350 km per hour, more than double that of India's fastest trains.
The government is reportedly firming plans for a similar project between New Delhi and Amritsar via Chandigarh.
India will be the first country to import the Shinkansen bullet-train technology after Taiwan.
Set up in 1853, the 164-year-old Indian Railways is the world's fourth-largest railway network and India's largest employer with 1.4 million people. It operates 19,000 trains—12,000 passenger and 7,000 freight—daily.
The government of Narendra Modi is promising to invest more than $130 billion to modernize the railway infrastructure.