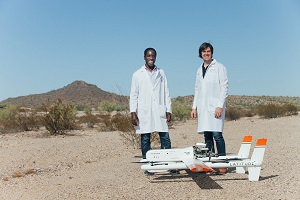 Dr. Timothy Amukele and Jeff Street have set a new delivery distance record for medical drones. Source: Johns Hopkins MedicineTraveling across 161 miles of Arizona desert in three hours, Johns Hopkins researchers have managed to establish a new record for medical delivery drones.
Publishing their results in the American Journal of Clinical Pathology, researchers were able to use the drones to transport human blood samples across the desert all while maintaining a safe temperature for the delicate cargo.
"We expect that in many cases, drone transport will be the quickest, safest and most efficient option to deliver some biological samples to a laboratory from rural or urban settings," said Timothy Amukele, M.D., Ph.D., assistant professor of pathology at the Johns Hopkins University School of Medicine and the paper's senior author.
"Drones can operate where there are no roads, and overcome conditions that disable wheeled vehicles, traffic and other logistical inefficiencies that are the enemy of improved, timely patient diagnoses and care," Amukele said. "Drones are likely to be the 21st century's best medical sample delivery system."
He also noted that, "Getting diagnostic results far more quickly under difficult conditions will almost certainly improve care and save more lives."

The team will continue to test the medical drones at greater distances in both the U.S. and overseas.