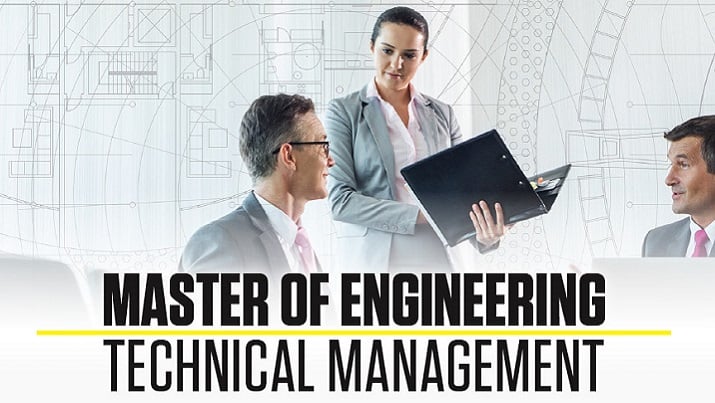 Source: Texas A&M UniversityBeginning in fall 2018, a new online master's degree will be offered at Texas A&M University's College of Engineering. The Master of Engineering Technical Management (METM) is a 21-month, part-time program designed for working professionals.
As opposed to a traditional Master of Science degree in engineering, METM concentrates on current industry best practices rather than research. It also differs from a traditional MBA by framing business decision-making within a technical and engineering context.
According to the university, the program's curriculum is designed to "meet the needs of engineering and technical professionals looking to enhance their technical management skills, business acumen, personal leadership effectiveness and project management skillset." By the end of the program, students will be able to:
develop a technical program for an engineering project;
lead and manage a diverse team of technical professionals;
create and implement corporate strategic technology plans;
effectively communicate with non-technical customers and colleagues;
have a framework for data-driven decision making;
manage resources and assets; and
manage new product development.
Veteran industry professionals and professors with industry experience teach the classes, which focus on business concepts such as data-driven decision making, engineering finance, project management and new product development. There is also an emphasis on building a leadership foundation that utilizes emotional intelligence.
While the program is primarily administered online, METM students will begin each academic year by completing a week's residency on campus. During that week, students work side by side with faculty, hear from executive speakers and have an opportunity to network.
Students focus on a capstone project during the second year, which is customized to each student's industry and position. Students are encouraged to select a project from their current line of work, allowing them to directly apply their knowledge and develop a strategy for resolving real-world problems.
The program concludes with a three-day on-campus session, in which students present the results of their capstone project to faculty and classmates. On the final day of the session, METM students participate in graduation ceremonies alongside on-campus students.
Upcoming information sessions will be held at various cities throughout Texas. For more information about the program, visit the METM website.