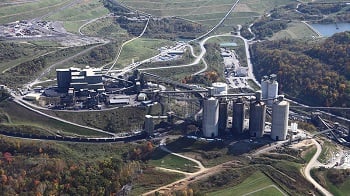 Centralized coal processing facility at the Pennsylvania complex operated by CNX Coal Resources. Source: CNX Coal Resources
A new type of solid energy refinery will be constructed in Pennsylvania to process waste coal and yield a high-quality, clean carbon fuel (CCF). CNX Coal Resources (Canonsburg, Pennsylvania) is partnering with OMNIS Bailey, LLC (Santa Barbara, California) on the project, which follows successful testing of a pilot facility at the Bailey Central Preparation Plant.
Scale-up of the technology is expected to expand revenue streams from the sale of CCF, as well as other byproducts with potential for agricultural use. The project should also reduce environmental impacts by eliminating the need for fine coal refuse impoundments.
The privately developed process removes mineral matter from the coal. The extracted minerals can be used to remediate depleted farmland. A micro-sizing process optimizes particle size to enable efficient separation of mineral matter from hydrocarbon. Mechanical dewatering then creates separate carbon and mineral filter cakes ready for palletization. A pulse jet conditioning system removes moisture and seals and weatherproofs the pellets.