Commentary: Let's Talk About the Weather
S. Himmelstein | September 11, 2017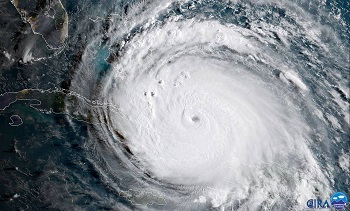 The NOAA satellite GOES-16 captured this geocolor image of Hurricane Irma passing the eastern end of Cuba at about 8:00 a.m. EDT on Sept. 8, 2017. (Source: NASA)Or more specifically, climate.
As someone who has fled from or hunkered down during a few hurricanes, I have deep sympathy as well as hope for Floridians about to feel the wrath of Hurricane Irma (as I write this). The devastation of many Caribbean nations is already testament to her fury. And then there's the havoc wreaked by Hurricane Harvey in east Texas.
I'm also mindful of the victims of the 8.2 magnitude earthquake that just struck southwestern Mexico. And of the millions being smothered by smoke and ash from numerous wildfires in the Pacific Northwest.
It's been busy out there. So busy that many in cyber-space are losing their minds. One would think it's the 'End Times." I would like to take this opportunity to dispel some myths and even some conspiracy theories surrounding the seemingly clustered occurrence of these events. Because, science.
Even The New York Times took note of this emerging reaction to chaotic weather:
Vicious hurricanes all in a row, one having swamped Houston and another about to buzz through Florida after ripping up the Caribbean.
Wildfires bursting out all over the West after a season of scorching hot temperatures and years of dryness.
And late Thursday night, off the coast of Mexico, a monster of an earthquake.
And just last month darkness descended on the land as the moon erased the sun. Everyone thought the eclipse was awesome, but now we're not so sure — for all the recent ruin seems deeply, darkly not coincidental.
If you thought that, you would be wrong, of course. As any scientist will tell you, nature doesn't work that way.
In researching this piece, I came across one non-Mensa member on the internet claiming that the recent solar eclipse is to blame for these otherwise very natural disasters.
According to meteorologists at The Weather Channel, "Since satellite imagery became widely available over the tropical Atlantic Basin in 1966, there has not been a case of a hurricane or tropical storm occurring as a total solar eclipse was in progress over the Atlantic Basin." The last time a named storm coincided with a total solar eclipse was in 1959.
And then there are the conspiracy theorists. Apparently, Hurricanes Katrina, Sandy, and Matthew were fostered by the U.S. Federal Emergency Management Agency. I'm not sure how these thoughts occur to people, and no, I won't supply a link to such nonsense.
Others on the World Wide Web attribute this spate of nasty events to Biblical prophecy. I'd really rather not address that or open that can of worms.
The jar of annelids I would like to open is the likely link between climate change and tropical storm development.
In the view of hurricane researchers from the U.S. National Oceanic and Atmospheric Administration (NOAA)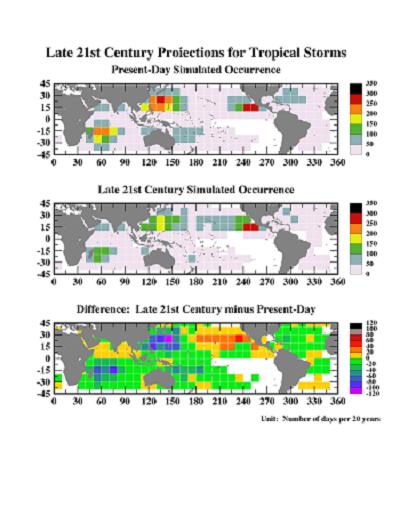 Model simulations conducted by NOAA's Geophysical Fluid Dynamics Laboratory predict an increase in average cyclone intensity in a warmer late-twenty-first-century climate. (Source: NOAA)and MIT, a warmer world will not necessarily mean more hurricanes, but it will see a rise in the frequency of the most powerful and more destructive variety. Sea surface temperatures (SSTs) have been rising, and act as a major driver of hurricane activity and storm intensification since a warmer ocean surface means more moisture in the atmosphere. The Clausius-Clapeyron rule of atmospheric thermodynamics indicates an increase of roughly 7 percent more moisture in the air for each degree Celsius of increase in SST. Data show that global SSTs have risen the better part of a degree C and conditions in which SSTs are several degrees C above normal are now more common as a result.
NOAA projections based on theory and high-resolution dynamical models consistently indicate that greenhouse warming will cause the globally averaged intensity of tropical cyclones to shift toward stronger storms, with intensity increases of 2–11% by 2100.
Is there a link between hurricanes and earthquakes? Hurricanes are indeed capable of producing strong seismic waves. As Hurricane Katrina approached the Louisiana coast in 2005, a seismic wave more than 1000 times the strength of the average volcanic tremor was felt nearly 3000 km away in southern California. Hurricane Sandy generated seismic shaking as distant as Seattle, Wash., as the storm battered the New York area in 2012.
There is much that we know based on real science. Ninety-seven percent of climate scientists agree that climate-warming trends over the past century are very likely due to human activities, and most of the leading scientific organizations worldwide have issued public statements endorsing this position. If that's what the rocket scientists at NASA and other reputable agencies conclude, it's good enough for me.