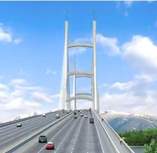 Artist's concept of proposed bridge.
British Columbia's government scrapped plans to design, build and finance a 10-lane 3.5 billion Canadian dollar ($2.88 billion) bridge between Richmond and Delta. It would have replaced an existing four-lane tunnel in the Vancouver metropolitan area.
The government reportedly will start an independent technical review to research the best solution for the aging George Massey tunnel, which experts have said is not safe and could collapse during an earthquake. That work could be complete in the spring of 2018.
The cancellation brought derision from some government officials, who say the project has already been studied, debated and analyzed for years. There are more than 150 reports linked on the project's website, according to news sources.
The province had shortlisted three companies to bid on the main contract, and two of those companies had submitted proposals. The deadline for the government to pick a winner was October 24. The two companies will now be compensated up to CA$2 million each for their aborted bids.
Taxpayers have already spent CA$66 million on engineering and geotechnical work, public consultation, land procurement and site clearing, including preparations for eventual widening of a highway leading to the bridge.
The government announced the bridge in 2013, but faced criticism for not consulting local mayors, some of whom thought the 10-lane project to replace four existing lanes was too big and would increase congestion in other parts of the metropolitan area's transportation network.