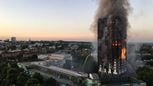 London's Grenfell Tower fire in May 2017.
In the wake of the Grenfell fire in London and other high-profile fires around the world, the Council on Tall Buildings and Urban Habitat has launched three initiatives: the creation of a new working group to look at the link between fire and façades; $20,000 of research funding to further investigate this field; and a fire performance workshop at the CTBUH 2017 Australia Conference.
The council says that following a number of recent tall building fires that appear to have spread up the outside of the façade, "this is a time when the building industry needs clarity and leadership."
The aim of this working group is to create an international perspective on the issues and provide recommendations and guidelines for the next generation of tall buildings. The council says that it appears the cause of many of these fires might have been inadequate fireproofing to the cladding, compounded by other issues in each case.
The Grenfell Tower in London is one of many fires that have breached perhaps the longest-standing fundamental fire safety object of tall buildings, which is "compartmentalization": that is, to resist the spread of fire between floors. The working group says it will seek to deconstruct what "fire safety" means, take it back to the key concepts that are independent of code or country and ask whether we understand each of those concepts and how they should be addressed.
The working group plans to incorporate the work of investigations in China, Australia, the UK and the Middle East, with the objective of creating an international perspective on the issues, and to generate recommendations and guidelines that could work internationally, while local guidance is also accommodated.