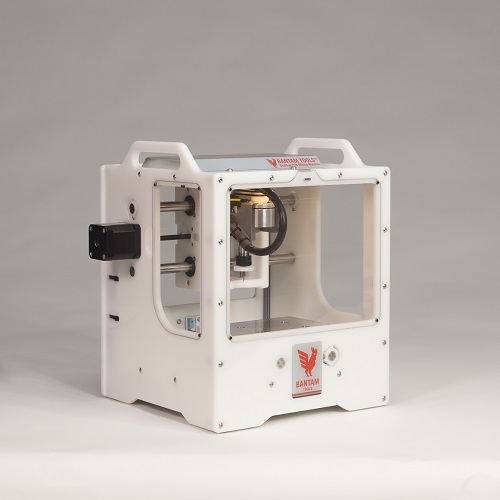 The new PCB milling machine. Source: Bantam Tools Bantam Tools, formerly known as Other Machine Co., has introduced a new desktop printed circuit board (PCB) milling machine to allow designers to create prototypes faster and more affordable than current methods.
The new machine can create prototype PCBS in a single day versus the weeks it can take to outsource board manufacturing. The machine costs about $3,199 making it an affordable option compared to other professional machines on the market, Bantam says.
The milling machine can be used to create prototype boards for phones, air quality sensors, biotech, automotive devices and much more. Bantam says the machine is already being used at companies and organizations such as CITRIS Invention lab, all branches of the U.S. military, NYU ITP, Blackmagic Design, Adafruit, Supplyframe DesignLab and the School of the Art Institute of Chicago.
As part of its announcement of the new milling machine, Bantam is announced that it has changed its name from Other Machine Co. in order to create a better branding option that is solely focused on selling products to professional engineers and educators.
"When we started Other Machine Co., now Bantam Tools, five years ago, we were a government-funded project with the mission to put manufacturing robots in the hands of children and create a generation of new makers and engineers that could design things and even invent new robots for manufacturing," says Danielle Applestone, CEO of Bantam Tools. "We originally focused on the hobbyist market, but soon realized that 90% of our machines were being purchased by professional engineers and educators. This rebrand helps us focus on those professionals and educators, who dramatically accelerate their pace of development and innovation with our machines."