A New Twist on Energy Harvesting
S. Himmelstein | August 26, 2017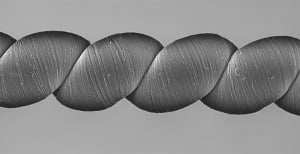 Coiled carbon nanotube yarns, imaged here with a scanning electron microscope, generate electrical energy when stretched or twisted. Source: University of Texas at Dallas
A carbon nanotube-based material generates electricity and harvests waste thermal energy from the environment when twisted or stretched. Nanotubes are twist-spun to form the high-strength, lightweight "twistron" yarns, which are then submerged in or coated with an ionically conducting material in order to generate electricity.
The volume of the carbon nanotube yarn decreases as the material is twisted or stretched, bringing the electric charges on the yarn closer together and increasing their energy potential. This increases the voltage associated with the charge stored in the yarn, enabling the harvesting of electricity.
Researchers from University of Texas at Dallas and Hanyang University, South Korea, showed that stretching the coiled twistron yarns 30 times a second generated 250 W/kilograms of peak electrical power when normalized to the harvester's weight. They also demonstrated that a twistron yarn weighing less than a housefly could power a small LED, which lit up each time the yarn was stretched.
A twistron yarn connected to a polymer artificial muscle that contracts and expands when heated and cooled converted the mechanical energy generated by the muscle to electrical energy. The researchers also sewed twistron harvesters into a shirt. Normal breathing stretched the yarn and generated an electrical signal, demonstrating its potential as a self-powered respiration sensor.
In a proof-of-concept demonstration, one of the researchers attached a 10-centimeter long yarn, weighing only 1 milligram (about the weight of a mosquito), between a balloon and a sinker that rested on the seabed off the east coast of South Korea. The balloon rose with the waves, stretching the yarn up to 25 percent and generating measured electricity.
The harvesters are considered most suitable for applications where changing batteries is impractical, such as powering distributed sensors and sensor communications. Just 31 milligram of carbon nanotube yarn harvester could provide the electrical energy needed to transmit a 2-kilobyte packet of data over a 100-meter radius every 10 seconds for the internet of things.