Tough, Self-healing Rubber Developed
Peter Brown | August 16, 2017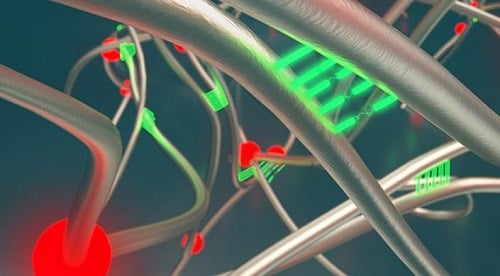 The hybrid rubber is made up of a molecular rope that bonds materials together to form self-healing properties. Source: SEASIt has happened to everyone — you're driving and your tire gives out, causing much frustration and costly repairs.
But what if that tire could heal itself after being punctured — how invaluable could that be to everyday drivers?
That's what researchers at Harvard John A. Paulson School of Engineering and Applied Sciences (SEAS) are working on with a new type of rubber that is as tough as natural rubber but can heal itself.
While self-healing materials aren't new, engineering properties in dry materials such as rubber has proven to be more difficult because rubber is made of polymers often connected by permanent, covalent bonds. So once they are bonded, they never reconnect after being broken.
To make the self-healable rubber, the team needed to make the bonds connecting the polymers reversible so the bonds could break and reform.
"Previous research used reversible hydrogen bonds to connect polymers to form a rubber but reversible bonds are intrinsically weaker than covalent bonds," said Li-Heng Cai, a postdoctoral fellow at SEAS. "This raised the question, can we make something tough but can still self-heal?"
Researchers developed a molecular rope, called randomly branched polymers, to tie these two types of bond together allowing two previously unmixable bonds to be mixed on a molecular scale. As a result, they created transparent, tough, self-healing rubber.
The hybrid rubber handles stress by snapping back to its original form unlike typical rubber which cracks under a certain stress point.
"Imagine that we could use this material as one of the components to make a rubber tire," said Jinrong Wu, a visiting professor from Sichuan University, China involved in the research. "If you have a cut through the tire, this tire wouldn't have to be replaced right away. Instead, it would self-heal while driving enough to give you leeway to avoid dramatic damage."
The full research can be found in the journal Advanced Materials.