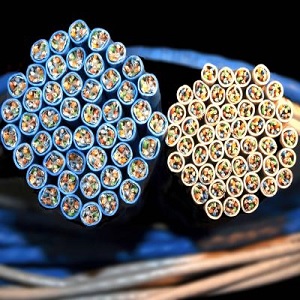 Source: Quabbin Wire & Cable Co., Inc.
Achieve superior performance with Quabbin Wire & Cable Co.'s DataMax® Patch Mini 6a 28 AWG reduced diameter network patch cables. The slim design offers a 23 percent reduction in size and a 38 percent smaller cross-sectional area when compared to standard 26 AWG Cat 6a cables.
The patent pending spline-free design features a polyvinylchloride (PVC) or low smoke zero halogen jacket, twisted pair construction, and 28 AWG stranded tinned copper conductor. They are not officially recognized by Telecommunications Industry Association's (TIA) ANSI/TIA 568 C.2 standard, but they meet Category 6a parameters at a maximum length of 56 meters where they offer increased flexibility and improved cable density.
The decreased footprint allows for increased air flow that helps maximize rack ventilation and they are ideal for high-density installations, top of rack applications and temperature sensitive environments. They also offer increased flexibility due to a tighter bend radius and feature NEC (UL) Type CMR and CEC C(UL) Type CMR ratings.