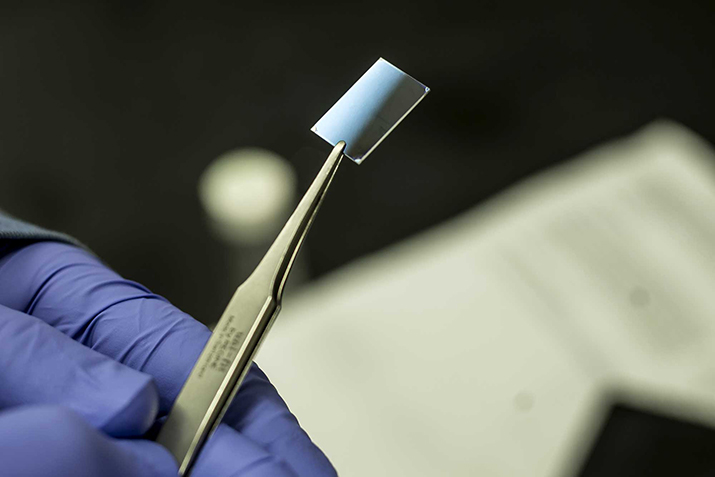 Examining a polymer at U-M's North Campus Research Complex. Image credit: Joseph Xu/Michigan Engineering.A new technique that changes the molecular structure of plastic has the potential for leading to lighter, cheaper, more energy-efficient product components – including those used in vehicles, LEDs and computers.
As published in Science Advances, the inexpensive, scalable process helps the plastic cast off heat. It was developed by a team of University of Michigan researchers in materials science and mechanical engineering.
"Plastics are replacing metals and ceramics in many places, but they're such poor heat conductors that nobody even considers them for applications that require heat to be dissipated efficiently," said Jinsang Kim, U-M materials science and engineering professor. "We're working to change that by applying thermal engineering to plastics in a way that hasn't been done before."
There are a large number of polymer applications in which temperature is important. Previous approaches have focused on adding metallic or ceramic fillers to plastics. There has been some success, but the process is expensive and can change the plastic in undesirable ways. The researchers turned instead to engineering the structure of plastic itself.
Heat traveling through plastic is impeded by the material's structure: long, tightly coiled chains of molecules. The team used a chemical process to expand and straighten the molecule chains, allowing heat to take a more direct route. The team found that their process also stiffened the chains, helping them to pack together more tightly – and making the plastic even more thermally conductive.
"Polymer molecules conduct heat by vibrating, and a stiffer molecule chain can vibrate more easily," said graduate student Apoorv Shanker, another member of the research team. "Think of a tightly stretched guitar string compared to a loosely coiled piece of twine. The guitar string will vibrate when plucked, the twine won't. Polymer molecule chains behave in a similar way."
Preliminary tests made a polymer about as thermally conductive as glass. While that's still far less conductive than metals or ceramics, it's a 600 percent improvement over an untreated polymer. The concept can likely be adapted to a variety of other plastics as well. The team is currently working on that, along with combining other heat dissipating strategies to their technique.
A commercial product, however, is likely several years away.