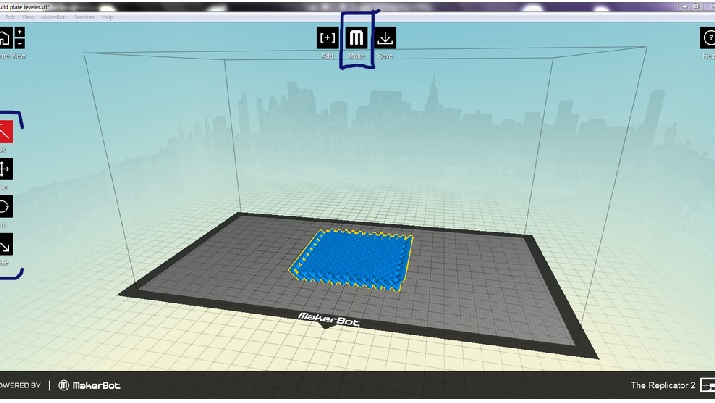 Object manipulation interface for MakerBot Replicator 2, a desktop 3D printer. Image credit: SuperBlobMonster / CC BY-SA 3.0If you follow technology trends, you probably hear about 3-D printing quite a bit. The process of creating objects by building up layer upon layer of materials is transforming a wide range of industries, including heavy industries such as aerospace and automotive, light industries such as cosmetics and textiles, and numerous others in between. 3-D printing also sits at the cutting edge of technological progress in the medical industry.
As with any innovative industry disruptor, correspondent employment opportunities are emerging as the technology has taken hold. One such career path is that of a 3-D printing technician.
It's a career that doesn't necessarily require more than a high school diploma, but having experience will certainly give you a leg up. A technician will likely need to work with 3-D computer-aided design (CAD) and modeling software, so any time you can spend exploring those programs will be helpful. Don't have them on your machine? Not to worry: Many programs are free and open-source, with intuitive interfaces to get you familiar with the basics. Fun-to-use beginner modeling programs include 3D Slash and TinkerCAD, both of which can be run directly on a web browser. When you outgrow them, professional-level tools are available as well — some, like Blender, are free; others, like SolidWorks, range in the thousands.
Of course it would also be helpful to get some experience running an actual 3-D printer, though the requirements of different machines will vary — much of what you'll need to know from a hardware perspective can likely be learned on the job. But if you do want to get some hands-on experience, there are a wide variety of models out there. Prices range from a couple hundred bucks (for a machine with very limited functionality) to the thousands (for "pro" models). Best bet: Read independent reviews before deciding on the smartest investment for you. Here's a little primer on what you need to know that we published recently on our sister site, Electronics360.
If you are in a position to pursue college-level study, look for schools that offer students access to 3-D printing labs and makerspaces. Additive technology research has made headlines for a number of universities; community colleges are beginning to invest in the technology as well. As part of its Digital Design and Fabrication initiative, for example, the State University of New York at New Paltz recently installed and provided hands-on training on 3-D printers at nearby Sullivan Community College. According to Rich McElrath, an instructional technologist at Sullivan, the training room was quickly overbooked. Additional classes will be announced soon.
Another option for college-level study, without the waiting list: The University of Illinois at Urbana-Champaign has created a thorough introductory course that can be taken online.
Here's a look at a sample job post for a 3-D printing technician. This one is from Brooklyn-based startup Voodoo Manufacturing, which offers prototype and production runs and has worked with a diverse group of household-name brands such as Lowe's, Mattel, General Mills and Universal Studios. Technicians are involved in all stages of the manufacturing process, from file prep to packing and shipping; there is also responsibility for printer maintenance. Some of the requirements are perhaps the most interesting part: at least a high school diploma, but no more than a technical field Associate's Degree, or one to two years experience in manufacturing, engineering, design, art or similar fields; experience working with your hands, tools and machinery; and proficient use of measurement tools such as calipers and micrometers. "Bonus points" are given for experience with finishing techniques like sanding, spray painting, resin dripping and the like. And of the perks listed, company equity and "access to all the 3-D printing you could ever want" certainly jump right out.
According to job search engine Indeed.com, the average U.S. salary for 3-D printing technicians is $14.54 per hour (as of late July 2017). A quick look at openings posted on the site at press time shows numerous hits for cities in California, including San Diego, L.A. and San Francisco; also on the list are areas in or near New York City, Denver, Boston, Miami, Indianapolis and Vancouver, Washington.
3-D printing is on the rise, and joining the ranks now may represent a chance to get in on the ground floor. Not unlike the technology itself, opportunities are likely to build.